Scarborough Cricket Club chairman insists club will "come through challenges" as Roses clash is thrown into doubt
Scarborough Cricket Club chairman Paul Harrand has vowed that the club will "come through the upcoming challenges" posed by the coronavirus outbreak.
By
Daniel Gregory & Chris Waters
Friday, 27th March 2020, 12:12 pm
Updated
Friday, 27th March 2020, 12:14 pm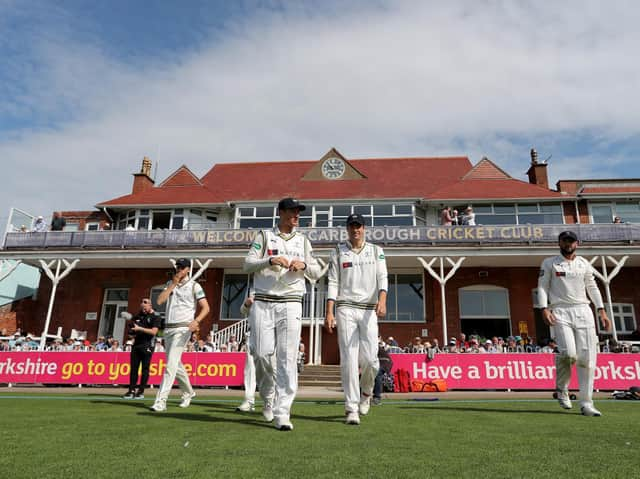 Will the Yorkshire players be walking out at North Marine Road as scheduled in June?
Confusion has reigned with regards to the county cricket season in light of the coronavirus pandemic.
The England and Wales Cricket Board has ruled that the campaign will not begin until May 28 at the earliest.
There would be no crueller cut from a Yorkshire cricketing point of view if the games at Scarborough fell by the wayside, especially given their bumper 2020 calendar which includes their first Championship Roses game against Lancashire (and only the third ever) since 1991 – before Warwickshire provide the opposition at the August festival.
Throw in a couple of one-day matches against Nottinghamshire and Warwickshire in July too, and the 10 days of scheduled cricket on the Yorkshire coast was always going to be a highlight.
However, coronavirus has messed things up and then some, with Yorkshire having been optimistic of attracting the highest crowd for a Championship match in England this year when Lancashire visited the coast.
The club had been eyeing daily crowds of around 6,000-7,000 in North Marine Road's evocative amphitheatre.
"Whatever happens, Scarborough Cricket Club will come out at the other end of all this," said Harrand.
"Yes, it will bring a lot of challenges to us, but we are working hard to be able to counter-act these.
"It will be tough, but we have some good people in place working hard and we'll continue to do so.
"John Dodds is ticking over on the ground so we're ready to go once we're told it's safe to do so, but people's safety is of paramount concern at these times.
"We'll be guided by the ECB and Yorkshire on these matters and are in contact with them on a regular basis."
"If we don't get any cricket at Scarborough this summer, it would be a terrible shame as we were all so excited for 2020 given our extra fixtures, but all we can do is be led by the relevant authorities on this.
"Scarborough Cricket Club has survived two World Wars and been around for a long, long time now though, as we will make sure we come out at the other end of all this."
Yorkshire chief executive Mark Arthur was hoping for the biggest aggregate Championship crowd for the Roses battle at North Marine Road.
"Ideally, we want it to be the biggest aggregate crowd for a game in the County Championship this season," said Arthur before the ECB's latest update concerning the programme.
"There's been a lot of interest from Lancashire supporters, with the feedback from Scarborough Cricket Club being that there were plenty of B&B/hotel bookings."
Whether the Red Rose invasion now takes place remains to be seen, with the entire Championship programme – let alone Scarborough's allocation – under threat.
The ECB has said that it will, quite rightly, prioritise the most financially lucrative formats of the game if we do get started, with many counties facing a fight for survival.
That means the T20 Blast and The Hundred.
It is the only pragmatic solution for the governing body, with the best-case scenario being some form of truncated Championship, perhaps even on a regionalised basis.
The Roses match at Scarborough, due to start on June 14, was important not just in its own right but because it could be the precursor to more such fixtures.
"If it went well, then we would definitely like to take more Championship Roses matches to Scarborough in the future," Arthur had added.
"It's something that hasn't taken place since Martyn Moxon got a match-winning hundred (in 1991), but I wouldn't have thought that we'd be waiting another 30 years to take Lancashire back there."
Ideally, and dependent on which counties are in which division, Yorkshire would like to play at least one of Lancashire, Durham, Notts and Surrey in their two annual Championship games at North Marine Road.
"The best attended games (at Scarborough) in recent years have been Durham, Notts and Surrey, and if you add Lancashire to that list then I think we'd be looking to always have at least one of those clubs," said Arthur.
"The interest there has been in this year's fixture speaks volumes."
What is beyond doubt in these uncertain times is that Scarborough remains the jewel in Yorkshire's crown.
"It's absolutely still got the magic," added Arthur.
"We do need to improve some facilities – toilets, the general environment, things like that. There's no plans for any major structural changes.
"The atmosphere is like nothing else you will find in this country for Championship cricket."