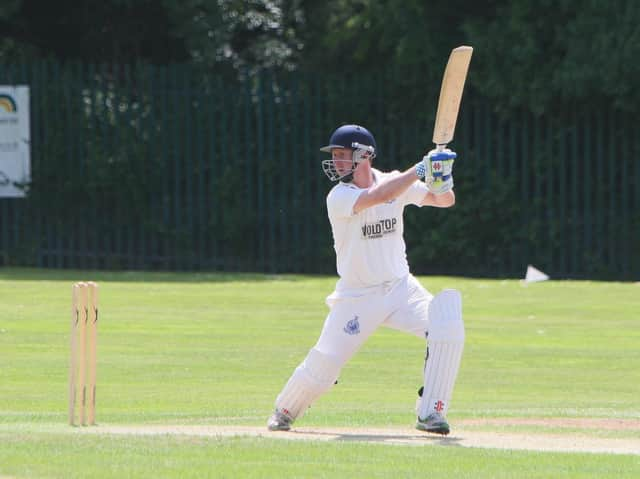 Darren Harland in batting action
Scarborough Cricket Club stalwart Darren Harland has reflected on his years at the club and the happy memories which followed.
Having made his debut in 1996, Harland's early years at the club were filled with highs and lows, these developing him as a player.
"My time at the club has been filled with both happy memories and some tough ones," he told The Scarborough News.
"I've seen times at the club when we've struggled to get teams out, but I've thoroughly enjoyed my time at North Marine Road and played with some great friends over the years."
It's most cricketers dream to make it professional and Harland was the same. From playing for Yorkshire Under-15s through to Under-19s, he even made his second-team debut for the county, but nothing materialised.
"I had a bit of a crack at it when I was younger and played some second team games, but I guess I just wasn't good enough in the end," he added.
"I've always played my club cricket at Scarborough, and that's where I've enjoyed it and I've been involved in some very good sides over the years.
"I've played alongside some very talented cricketers in the past and had the privilege of meeting some amazing players.
"Players like Brad Wigney, Cameron Cuffy and Clint Heron as well as club legends Phil Hart and Chris Clifford."
The right-handed batsman has scored over 11,000 runs for Scarborough, hitting 19 centuries and 67 half-centuries amongst his runs. When asked about retirement, the Whitby man insisted that he is prepared to take it one season at a time.
He added: "The last few years I felt like I couldn't walk away from the club purely because we were struggling with players and squad numbers.
"I'll leave the club when the time is right and I'll just speak with the club and see what they say.
"The last thing I want to be is a burden and as soon as players are there to take the club forward that'll be the time to take a step back."
2020 was a strange season for many cricketers, with Scarborough only fielding one side and playing their games in the Scarborough Beckett League. Harland chose not to play last year due to work commitments.
He added: "Work was busy last season and I never really had chance to think about cricket to be honest with you.
"You do miss it though; you miss the changing room and being a part of the team.
"That year has come and gone and no one knows what will happen this season but thankfully the club seems to be in a good position going into 2021."
Close friend and Yorkshire batsman Adam Lyth has featured for the Dehli Bulls in the Abu Dhabi T10 and Harland is delighted with the opportunities he's getting.
"I'm chuffed to bits for Adam and this franchise cricket has opened a lot of doors for the pro's and he always seems to do well in it," he added.
"I know he hasn't played much in the T10 but I'm proud as punch for him and let's hope that he's still got plenty more years in him."
The tough times at North Marine Road were always challenging with a certain trip to Sheffield Collegiate springing to mind.
Harland added: "We've had some seriously tough times; I remember years ago at Sheffield Collegiate we had to throw a cup game because we couldn't even get a team.
"You'll always have characters in the dressing room and you're getting lads who give up weekends to play cricket and training mid-week.
"If you have strong characters around you then that's what it's all about and you find ways to get through the tough times."
With the 2021 season edging ever closer, Harland is excited about the way the club is shaping up ahead of a tough season.
"Obviously with Pat (Roberts) coming in he's brought a few players to the club and some of our old boys are also staying which is really good news," he added.
"With Piet (Rinke) coming back to the club it's huge for us all and he's a solid bloke and a perfect guy to take us forward."