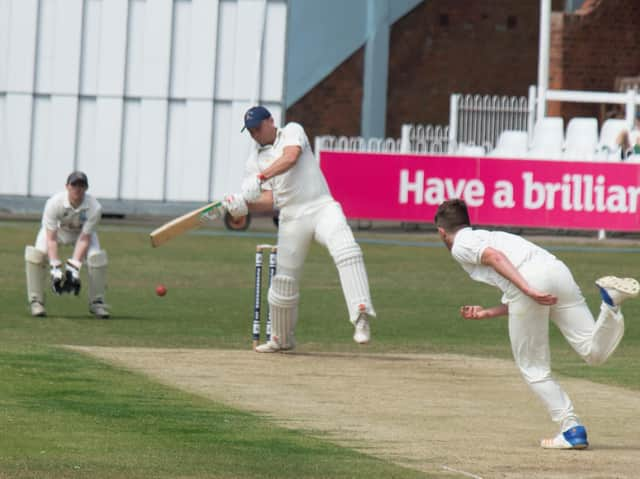 Bowler Adam Eustace shone for Wykeham
Leaders Heslerton were handed the win as opponents Cloughton conceded, and rivals Seamer and Flixton both lost out.
Filey have now emerged as Heslerton's closest rivals after defeating Flixton by five wickets.
Marley Ward's 40 helped Flixton to 118-5, but hosts Filey secured the win thanks to Ryan Baldry's 36, despite 3-21 from Sam Wragg.
Seamer slumped to a seven-wicket loss against struggling Staxton.
Skipper Leon Stafford, Kingsley Gray and Kieran Walker all took two wickets each as visitors Seamer posted 98-9.
Ryan Hargreaves (49) and Jack Pinder (41no) then wrapped up the shock win for the 10-man home side.
Steve Clegg and Adam Eustace were the star men as Wykeham defeated Ebberston by 32 runs.
Clegg's unbeaten 49 from just 34 deliveries steered the visitors to 101-4, and then Eustace's excellent spell of 4-9 helped dismiss Ebberston for just 69.
Division B leaders Scalby won by 22 runs at home to Ganton.
In Division C, Wykeham B tied with Snainton.
Ben Norman hit 31 and Luke Smith 26 as Snainton made 116-5, then Michael Kipling bagged 3-36 as Wykeham replied with 116-9, Charlie Revis hitting 58.
Doug Bentley's 55no helped leaders Ebberston B defeat Forge Valley by 42 runs.
Dan Boyle took 3-24 as Ebberston posted 128-4, then teenager Tom Horsley bagged 3-8 as Valley hit 86-8.
Kyle Orange's 37 helped Muston defeat Scalby B by six wickets.