Yorkshire batsman Lyth's delight at return to cricket action
Yorkshire batsman Adam Lyth is thrilled that cricket is starting to return after an enforced spell of inactivity due to the coronavirus outbreak.
Thursday, 9th July 2020, 9:18 am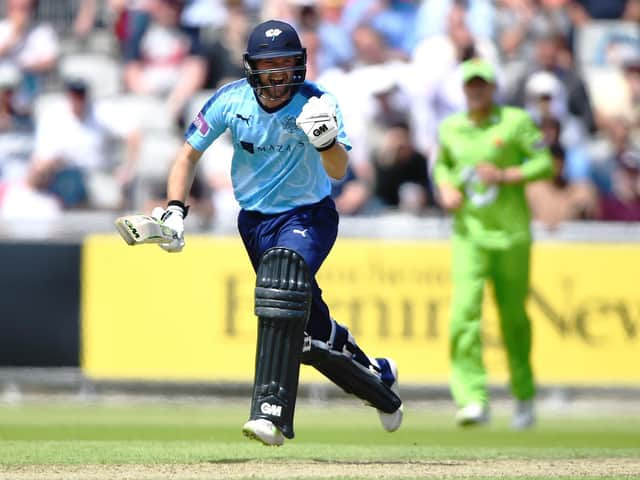 Yorkshire's Adam Lyth. Picture: Getty
Opener Lyth returned to training with Yorkshire this week after a prolonged spell on furlough leave and he admits he can't wait for action to get back under way.
Counties will play red and white ball cricket this summer following a vote on the structure of the new season on Tuesday.
"I enjoyed the extended break from the game to be honest, I have a young family and to be able to spend more valuable time with them was fantastic," admitted Lyth.
"I cherished the time at home, but I imagine some of the younger lads who don't have kids may have been a bit bored.
"We were back in phase one last week and stepped it up to phase two this week working in small groups, and while it has been a bit different, I've really loved being back in and having a hit in the nets.
"I feel in good touch and I've been hitting it well so far, hopefully that continues."
Lyth and his Yorkshire teammates were handed plans to maintain their fitness during their spells on furlough, and despite a calf niggle, Lyth admits he feels refreshed and ready for action to get started.
"I feel in good condition going back into training, we were all given fitness plans to work from at home and everyone kept a close eye on each other's Strava accounts," added Lyth.
"I had a little calf niggle which didn't help, but I managed to get out for an hour or so, which was a nice break from the DIY at home during lockdown."
The left-hander admits things feel a little odd at Headingley upon his return, not owing solely to the coronavirus restrictions still in place, but with the departure of long-serving Yorkshire ace Tim Bresnan.
"I was gutted to see Bres leave the club," added Lyth.
"Bres took me under his wing when I first made it into the first team at the club and we have been close mates ever since then, so to see him leave is really disappointing.
"Obviously he has moved onto Warwickshire now and I wish him and his family all the best down there, he will definitely be missed at Yorkshire."
The Tykes have drafted in Dawid Malan this summer, and with the sudden departure of Bresnan, Lyth expects the club's youngsters to be given the opportunity to step up and try to impress.
"I'm really looking forward to playing alongside Dawid, he's clearly a high-quality operator who I think will score a lot of runs for the club," added Lyth.
"He's a great addition to the side and I'm certain he'll be a success for us.
"Bres leaving us offers some of the younger bowlers an opportunity to step up and try to impress, the likes of Matthew Fisher and Matthew Waite will be keen to try and do well."
Another Yorkshire player who will be keen to catch the eye, albeit for very different reasons, will be wicket-keeper batsman Jonny Bairstow, after his omission from the England Test side for the First Test against the West Indies this week.
"Jonny is a world class performer who I have no doubt will come back to Yorkshire, score a lot of runs and then be back in the Test side sooner rather than later," added Lyth.
"Jonny will have been disappointed to miss out on the Test side for the game at the Ageas Bowl no doubt, but I'm sure he will bounce back."
The Whitby man is also delighted to see the green light given to recreational cricket to return from this Saturday.
He added: "It's fantastic news that grassroots cricket is set to return at the weekend.
"We don't want the next Joe Root, Ben Stokes or Jos Buttler to end up taking up another sport and leaving cricket, so it's great that teams are going to be able to get out and play again from this week."