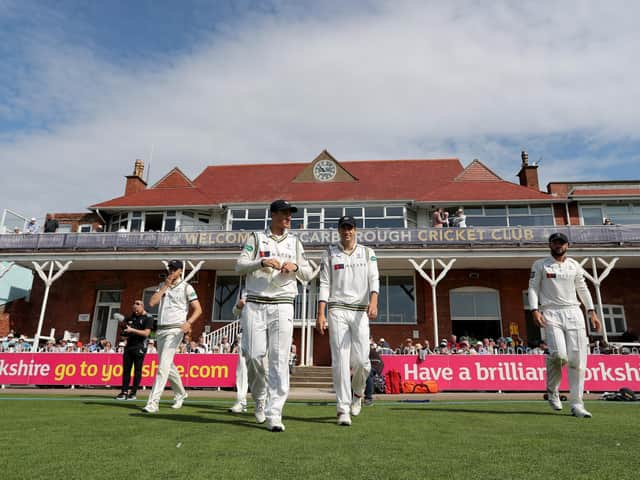 Yorkshire CCC have confirmed they hope to bring the Roses match to North Marine Road in 2021
The new Championship conference system means that Yorkshire's only chance to play their Roses rivals will be in the first part of the tournament – provisionally from between early April to mid-July.
There are likely to be two Championship rounds in July, which Yorkshire deem the perfect "Scarborough slot".
For 2021, the 18 counties are in three conferences of six based on a complicated hybrid of their finishing position in the 2019 Championship, their performance in last summer's Bob Willis Trophy, and with an element of local derby flexibility thrown in, replacing the two-division structure on a trial basis.
Each club will play the other home and away (10 games), with Yorkshire in conference three along with Lancashire, Kent, Northamptonshire, Glamorgan and Sussex.
Based on results in the conferences, the counties will then be arranged into three divisions of six, with the top-two from each conference going into Division One, teams three and four into Division Two, and teams five and six into Division Three.
Clubs then play a further four matches in late August and September – one apiece against the respective teams from their rival conferences, meaning that Yorkshire could not face Lancashire were they to be in the same division.
The winners of Division One will be county champions and will then play the second-placed Division One side in a one-off five-day match at Lord's for the Bob Willis Trophy.
Next year's county fixtures have still to be released due to the pandemic – normally they would have been out around now – and the fact that the international programme has yet to be clarified. It is hoped that fixtures for at least the first 10 Championship rounds (the conference part) will be out before Christmas.
Great disappointment attended the loss of this year's Roses game at North Marine Road, which would also have been only the third Championship Roses clash at the venue, with the prestigious contests having been played exclusively in recent years at the respective headquarters of Headingley and Old Trafford.
But Mark Arthur, the Yorkshire chief executive, said: "We are hoping to be able to take Lancashire to Scarborough again next year, but a lot will depend on the ECB's ability to pair us in what we determine to be the Scarborough slot.
"That would be in July, because the only slot in August is right at the end (in the divisional part), which could potentially clash with our Test match as well.
"We all saw the impact of the early sales that Scarborough were getting for what would have been Lancashire's first Championship match there in 29 years, and, with any luck, we'll be given the right slot.
"Lancashire and ourselves have agreed that they will come to Scarborough next year provided that happens."
Yorkshire will once more play two Championship games at Scarborough come what may, with North Marine Road also hosting one of the club's two home matches in the divisional stage.
Scarborough is also set to host two 50-over fixtures – as is York – and remains very much the jewel in Yorkshire's crown.
"For me, as with many Yorkshire members and supporters, the Scarborough fixtures are the first ones to look out for," added Arthur.
"This time it is going to be slightly different in that we will only be able to confirm our opponents for the first Championship game there, and, as I say, we very much hope that will be Lancashire.
"It would also be very helpful for Scarborough to have Lancashire as the visitors, for just as we recognise that cricket in general has been hurting this year with the impact of coronavirus, we recognise what it has done to clubs like Scarborough.
"We hope that by giving them a really good programme next year it can help them make up some of the losses they've incurred this year."
Last summer, Scarborough warned that it faced a small six-figure loss due to the crisis but insisted it will come back "stronger than ever".
A Roses game would undoubtedly help.