Yorkshire star Daisy Stokoe hails YCB spotlight on women's cricket
The Yorkshire Cricket Board are celebrating International Women's Day throughout the whole of March by hosting a month of activities to showcase the women's game.
Thursday, 18th March 2021, 9:43 am
Updated
Thursday, 18th March 2021, 9:44 am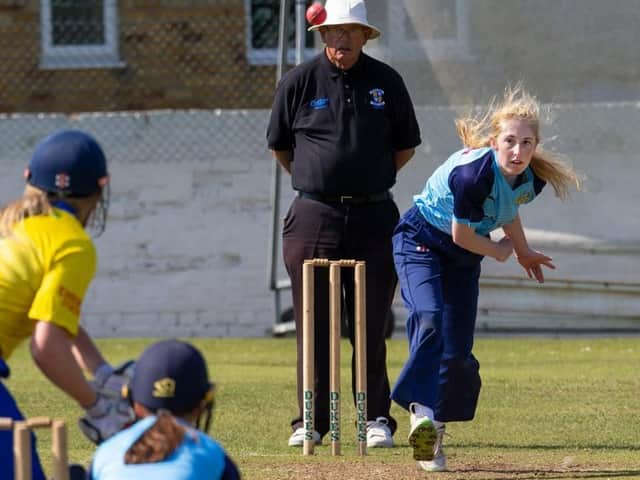 Daisy Stokoe in bowling action.
The month of March will be used to share stories across the women's game and encourage more women and girls to play, watch or attend cricket in the next 12 months.
Whitby's Yorkshire cricket star Daisy Stokoe is delighted with the initiative.
She said: "I think that it is really good that they are trying to get girls and women more involved in cricket and raising more awareness for the game.
"I think it's really important that they start to target the younger age group of girls especially to get involved as it will widen their knowledge of the game which they can hopefully grow up and blossom into really good cricketers.
"The women's game of cricket has been on the up the past couple of years which is great to see as there isn't always much opportunity for girls which is a shame but as it is being broadcasted more over live TV it has been gaining attention off a lot of people, not just women and girls, which is great to see.
"There is still a long way to go for the women's game of cricket but it is on the up and I think it's important that as many young girls get on board and be part of that journey!
"I know I can't wait to get back playing cricket this season after the long wait during these national lockdowns, it's been far too long not doing one of the things I love the most.
"Cricket for me is like my whole life, it's what I live and breathe along with football and I'm sure more women and girls will think the same once they've got involved.
"It's really allowed me to experience many great opportunities as well as giving me friends for life, it's a really good way to improve social life too and learn about others and their cultures that maybe different to our own."
The YCB will be launching a new county-wide Women's Softball League, finals day to be held at Ampleforth College on August 22 and a county-wide Super 8's Hardball League as well as Women's Softball Festivals throughout the county.
The YCB will also be increasing the female workforce within clubs and communities, investing in clubs to make them family friendly and staging girls only Dynamo cricket programmes.