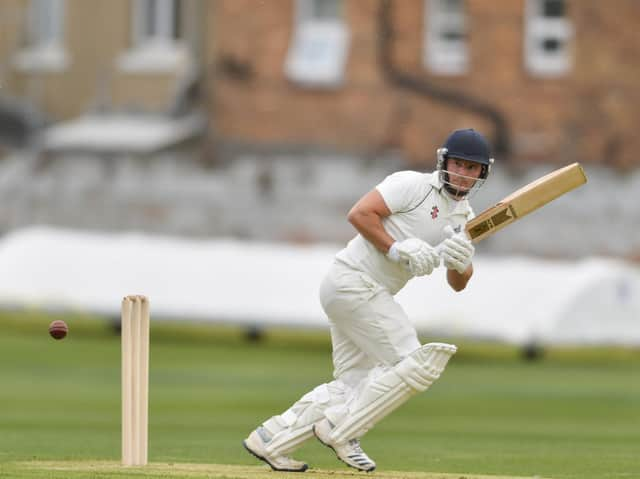 New Scarborough 2nds captain Nick Zakrzewski
Left-handed opening batsmen Nick Zakrzewski will take the reins following the departure of Mark Cowell and he is looking forward to a positive season at North Marine Road.
"It's really exciting times for the cricket club and things are starting to move forward which has presented me with the perfect time to take on the captaincy," he told The Scarborough News.
"I'm wanting to try and bring on the young players and develop them and help bridge that gap between the first team and the second team."
Cowell leaves the club after a hugely successful stint and Zakrzewski is aware of the hole that will be left in the side following his exit.
He added: "He's a hard person to replace and he obviously has years and years of experience.
"He's left things in the squad that we can build upon and hopefully we will have a successful season and push up towards promotion.
"If we were to win the league that would really be the icing on the cake but I'm hoping to do things my way this season and get the best out of the players.
"There's now a real structure at the club and hopefully we will see more players pushing towards the highest standard."
The former Flixton man scored an impressive 775 runs during the 2019 season, helping Scarborough 2nds to promotion and believes that his relationships with the current players will help during his spell as captain.
"I've been really lucky to get to know many of the players in the side and they all know my personality and the way that I work," he added.
"The lads must buy into the what we're trying to do at the club and play for each other in every game."
With Scarborough's first team operating in the Yorkshire Premier League North division, the new skipper is hoping to close the gap between the two teams and make the club more appealing for players.
"What's important is that local lads chose to play for us and be a part of this exciting period at the club," added Zakrzewski.
"There will be good competition for places this year and the players will have to understand the process of selection and work hard to earn their places in the squad."