Ashley Jackson keen to pick up where he left off with Scarborough Athletic
Scarborough Athletic defender Ashley Jackson has admitted that he is loving life under Darren Kelly despite it being a frustrating campaign.
Thursday, 18th March 2021, 10:06 am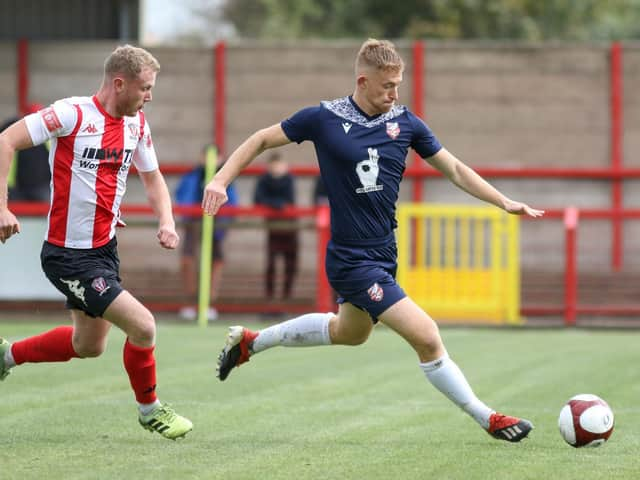 Scarborough Athletic wing-back Ashley Jackson is keen to pick up where he left off when action gets back under way
Jackson signed from Boston United in August and he agrees that it was the perfect time to join the club.
"I felt like I needed a new challenge and to become more involved with a club," Jackson told The Scarborough News.
"It was definitely the right time to sign for the club and I couldn't wait to get my teeth into it and help bring success to the town.
"I wanted to come to the club and help Darren (Kelly) move the side forward and improve my own performances."
The 26-year-old found the latter stages at the Pilgrims extremely difficult, with him spending the majority of his second season on the bench.
But he continued to work hard behind the scenes, and caught the eye of manager Kelly.
He added: "When I first signed for Boston, I took the main left-back position and I was feeling really good.
"I came back for the second season, felt even better than before, but they brought a new lad in and he kept the shirt.
"It was tough, but we pushed each other and I tried to go out on loan to get some game time but the gaffer didn't want me to leave."
United currently ply their trade in the Vanarama National League North, and Jackson wasn't bothered about the drop in levels, with the reputation of Scarborough Athletic speaking for itself.
He added: "I never looked at the drop in leagues and the club was the main pull for me when I signed.
"The club have a bigger fanbase and I'm really looking forward to progressing and working towards the main goal.
"I only really got to experience 600 fans against Whitby and that was really exciting.
"As a squad we have really missed the excitement and buzz around the ground and I can't thank the fans enough for their continued support."
With the continued uncertainty surrounding the ongoing coronavirus pandemic, Jackson has spoken to boss Kelly, and admits things are sounding really positive at The Flamingo Land Stadium with the hope of things being back to normal for next season.
He added: "I've spoken to Darren and everything seems positive, he's really wanting to kick on next season.
"I think the fans didn't get to see the best of our side due to the season being ended.
"I definitely agree the signing of Connor (Simpson) was the final piece we needed and I'm sure that he will help the squad and grow a good partnership with Nathan (Cartman).
"As a player, I'm getting more confident and Darren's enthusiasm and drive is something that we can all enjoy being a part of."