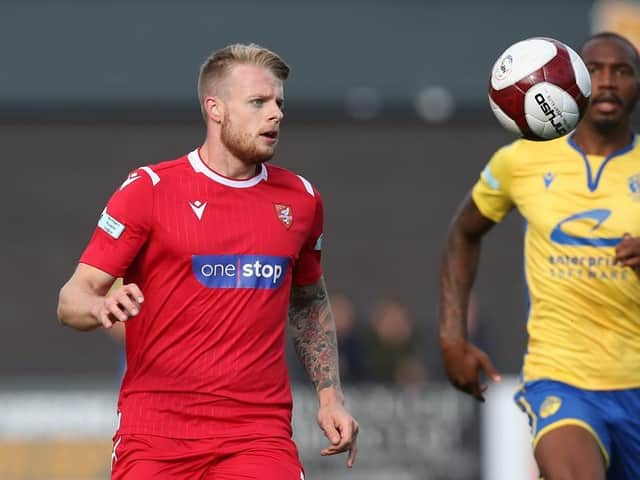 Josh Barrett
Barrett put in a man of the match display in Boro's 3-1 win over Ashton United on Saturday, helping Kelly's side extend their impressive run of form at the Flamingo Land Stadium.
"I'm loving it at wing-back, it just means you can get forward a lot more and I am enjoying that," said Barrett.
"I haven't played there until recently, only at right full-back, but I think it suits me as I can use my pace and strength in the final third."
Barrett was delighted to help his side pick up another home win against Ashton on Saturday, bagging an assist as he teed up skipper Michael Coulson for his and Boro's second goal in a wind-affected encounter.
"I saw their manager had said they dominated the game and deserved something from it but I thought we were good value for the three points," added Barrett.
"We went in happy at the break at 1-1 as we knew the wind was playing a huge part in it.
"I thought we were the better side, even when they had 11 men on the pitch."
Ashton gaffer Michael Clegg insisted the referee had played a huge role in their defeat in his post-match interview, believing Liam Tomsett shouldn't have been sent off after a lusty challenge on Boro's Jack Johnson.
Barrett however, believes the referee had no choice to but send Tomsett off.
"Their pen was a bit soft, Isaac didn't make a lot of contact with their player, but the referee got the red card and other penalty decision spot on," Barrett added.
"I was surprised that their manager said it wasn't a red card, you can't fly in with your studs up like that anymore and expect to get away with it, even if you do win the ball initially."
Barrett admits the players are all vying to stay at the club next season under new boss Kelly as he casts his eye over the current squad for the remainder of the campaign.
The former Tadcaster man added: "I'd love to do enough to stay at the club for longer and I hope I am doing enough to impress Darren.
"Things are gearing up nicely for the club to have a good go at promotion next season and I would love to stay and be a part of that.
"Darren has made a few additions to the staff recently and that will only help us going forward too.
"Training sessions have been much more structured too, which definitely helps us prepare for games."