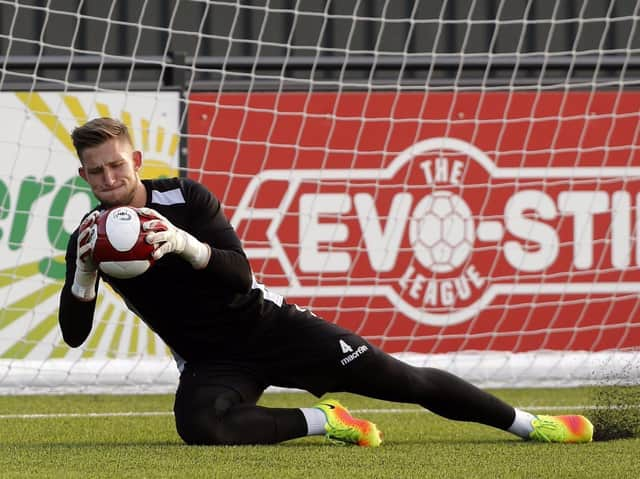 Boro keeper Tommy Taylor is currently on trial with a Ladbrokes Scottish Premiership club
Taylor admitted in last week's Scarborough News that he will undergo a trial north of the border this week, and boss Kelly insists he has been in constant dialogue with the goalkeeper regards his opportunity.
"Tommy has gone up to Scotland with my blessing and best wishes," said Kelly.
"Since I came to the club Tommy has been fantastic both on and off the field, he's without doubt the best goalkeeper in the league and he's also a great guy who I have a lot of admiration for.
"Obviously for Tommy I hope things work out for him up in Scotland, but of course with my Scarborough hat on, I would love to have him with us next season.
"Tommy obviously has aspirations of going on to play in full time football and I'm sure if he was offered a deal up there, he would go with everyone's blessing.
"I have been in contact with Tommy and his agent from the start of the process and I expect we'll know either way in the next week or so, as we obviously need a resolution going forward."
While Kelly hopes Taylor will be pulling on a Scarborough Athletic shirt whenever the 2020/21 campaign gets under way, he has a number of back up options should that not be the case.
Kelly added: "Clearly Tommy is my preferred option to be our goalkeeper this season, but I have detailed plans in place should that not be the case.
"There is a Plan B, Plan C, Plan D and so on, and as soon as we know how Tommy's trial has gone I will spring into action.
"I have been offered a few different goalkeepers in the last few weeks, but I don't like to sign players without doing my due diligence and at the very least watching them play."
Kelly is keen to get his number one sewn up as soon as possible, highlighting the importance of having a strong number one between the posts.
"It's a hugely important position in any side, especially for me as I like to build out from a strong defence," added Boro boss Kelly.
"You need to be strong mentally to be a good goalkeeper, obviously as well as having the qualities needed."