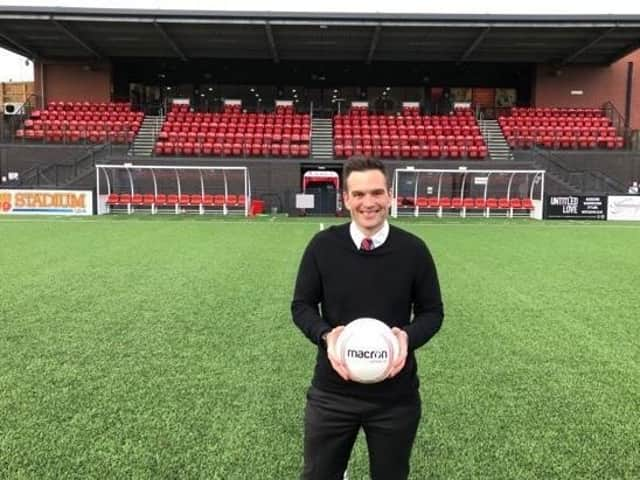 Boro Director Del Gunton
Gunton, who is the director responsible for business partnerships said: "The end of the season, caused by the coronavirus outbreak, could not have come at a worse time for us on the financial front as we missed out on home games.
"This included what should have been a big crowd for the FC United game at Easter as well as other events that were planned, but obviously health and safety had to come first and there was no option but to not complete the season.
"The money that has been raised by groups and also contributions from individual donations has been a massive help and the extra uptake in the Boro Draw by fans has helped put us in a much better financial shape.
"There has been an increase of around 10 to 15% in new members of the Boro Draw and this regular income makes a big difference for the club. If we can keep increasing these numbers it'll help to support the playing budget which is always our key focus."
Gunton, who joined the board in November, around the same time as Darren Kelly came in as Boro boss, is eager to let sponsors who have supported Athletic last season know that they will help them in any way they can as football clubs - and businesses in general - look to recover from the negative effects of the Covid-19 outbreak.
He added: "In football, and in businesses, around the country we are in a holding pattern as everyone waits to see what happens next regarding the lockdown.
"The sponsors and partnerships we have in place are massive for the club and these continuing next season will be crucial for our success.
"We will be communicating to our sponsors in the coming days that we want to assist as we all start coming out of this difficult period. We have a large base of supporters receiving weekly newsletters and regular social media updates, which means we can communicate as these companies re-open and need to get their message out and I would urge our supporters to support these local businesses for the good of the club and the town.
"The uncertainty regarding the start of the NPL season means that we are also having to hold on things such as season tickets, pre-season friendly dates and team kit announcements, although with Macron, who are based in Italy starting to re-open, we are now starting to see samples for possible kits emerge for next season.
"I know a few teams at this level are starting to sell season tickets for next season but we, as a club, have decided not to do this yet until we have some idea of when the season will start and what potential restrictions may be in place.
"We have heard various suggestions in the media that the season could start any time from August up to January 2021. How social distancing will affect the number of seats available or numbers of supporters allowed in the ground is currently uncertain, so, as difficult as it is, we are holding off until we receive concrete advice."
The director is also encouraged by the possible return to action of the Premier League, and its knock-on effects.
"While we all realise how far removed the Premier League is from most other levels, even the news of the return to training of Premier League clubs does have a knock-on effect on the Championship, League One, and all the way down to the non-league clubs.
"It gives clubs, players and fans hope that we are turning the corner in battling Covid-19 and hopefully we can come out of this lockdown soon and get back to watching football and when that day comes we'll be ready"