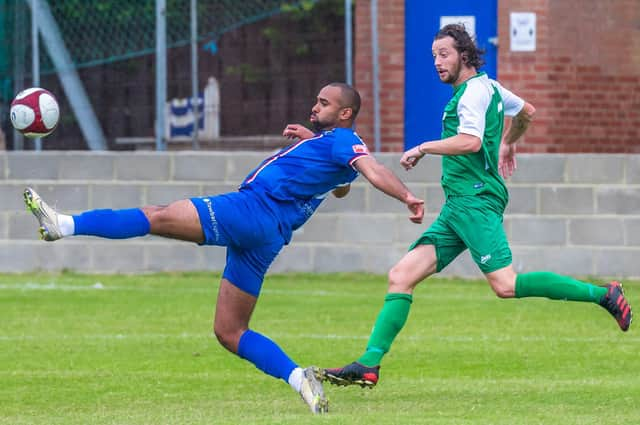 Blues top scorer Jacob Hazel scored the first goal against Witton
The Seasiders welcome Steve Cunningham's side to the Towbar Express Stadium at the Turnbull Ground on Saturday afternoon (kick-off 3pm), writes Liam Ryder.
Following the weekend's victory over Witton - just their fourth Northern Premier League Premier Division win since the turn of the year - the Blues maintained their three-point gap to fifth-placed Warrington who occupy the final play-off spot.
Bullock was heavily impressed with his side's win at Wincham Park, in what he described as a "must-win" match in their bid to climb into the league's top five.
"We worked hard all over the pitch," Bullock said. "We were better than our opposition and it was a pleasing performance. It had been said that it was a must-win game and the lads got a really good three points.
"It was quite a comfortable second half barring one moment where we switched off on the counter-attack and Shane (Bland) made a save."
Ahead of Saturday's tie with the leaders, Bullock believes that his team can raise their game as they have done against high-flyers, particularly at home, this season.
He said: "We know that the lads will be on it and they'll give it their all.
"We've got to be good enough to beat a really good, powerful outfit. We know the effort is a given. When we usually come up against these strong sides, we normally produce."