Brid Rovers Ladies sign off with cup final win
The former Bridlington Rovers Ladies team, who changed to Hull United Women in May, played one final game as a Brid team last weekend.
Thursday, 17th September 2020, 7:31 am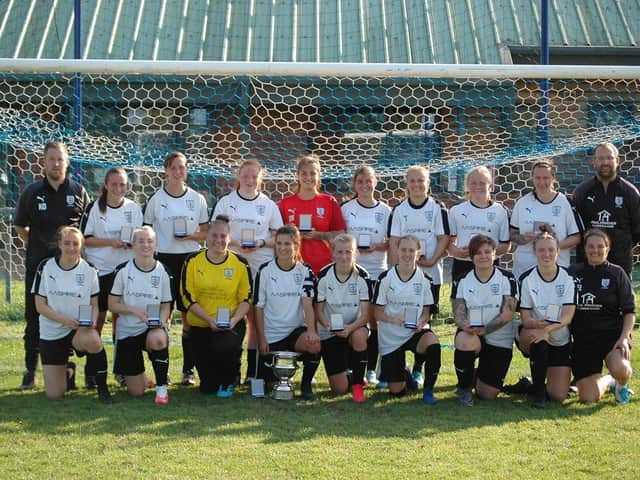 Brid Rovers Ladies won the Women's Cup final
The old Brid Rovers Ladies team defeated AFC Preston 3-0 in the East Riding County Women's Cup final.
Bridlington started the brightest as Evie Barrett fired her free-kick wide, before they scored the opener on the third minute.
Amy Ward picked out the run of Jade Newlove and she chipped the onrushing Alina Andrei to score. Preston looked threatening through the set-pieces of Laney-Mae Woodall as Kirsty Bannister was forced to push one of her corners away from goal.
In the other goal, Andrei held Ward's shot, before Newlove rounded the Preston goalkeeper with great skill, but she fired her attempt over the bar.
Charlie Sutherby then produced a stunning block to deny Megan Toohie, before Bridlington scored their second just past the half-hour mark.
A lobbed pass by Emma Smith released Ward and she rifled her drive over the despairing dive of Andrei to double their lead.
Preston came close with a flurry of chances before half-time.
Aimee Lindley poked an effort wide, before Alex Beardshaw connected with Paige Conlan's cross, but the winger dragged her effort wide.
Woodall then released Conlan with a long pass, but Conlan's first-timed volley went wide of the post.=
In the second-half, there was few chances created in the opening exchanges.
Natasha Linford hit her effort straight at Andrei while Andrea Ceasusu hit the side netting from range.
Ward then dragged an one-on-one effort wide as the game entered into the final 10 minutes.
Abigail Edwards and Lindley both saw efforts blocked from Woodall's corner, while Bannister had to be sharp off her line to clear Conlan's low cross, as Ceasusu was looking to pounce on a mistake.
Rovers then looked to finish the game strong as Smith saw her shot blocked by Jade Ferguson, while Rosie Littlewood saw her effort saved by the feet of Andrei.
Smith was then extremely unlucky as her well-driven free-kick crashed off the bar, before Brid scored their third two minutes from time.
Eleanor Robinson released Newlove and the striker placed her finish into the bottom corner to secure her brace.
She could have scored her hat-trick in injury time as she combined again with Robinson, but her effort was saved by Andrei as Brid secured the cup.
Rovers captain Amy Thompson said: "It's great to end Bridlington Rovers on a high with the cup, especially with everything that happened last season and now going under the name of Hull United.
"We didn't end last season on a high with everything that has happened, but it was really good to get the girls back together and play with everyone again and best of all, we got the win and the cup which was great.
"AFC Preston played absolutely outstanding and it wasn't an easy game at all and they came at us, but luckily we managed to get a couple of goals early on and get the win."
Rovers: Bannister, Sutherby, Kendrick, Wyatt, Robinson, Barrett, Thompson, Derbyshire, Smith, Ward, Newlove.
Subs: Wild-Storr, Linford, Atkinson, Stonehouse, Workman.