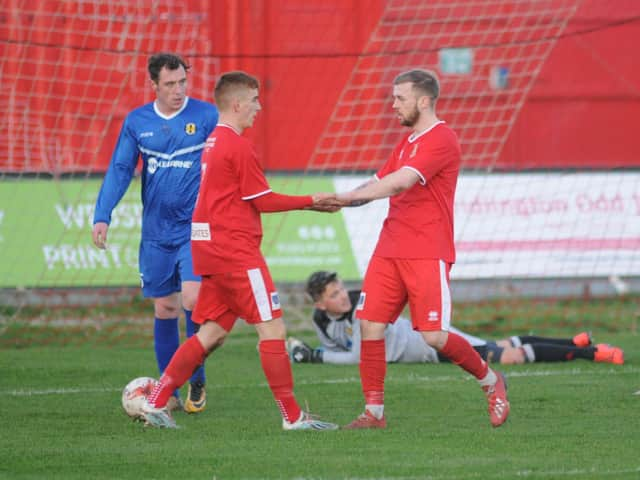 Bridlington Town may be gaining promotion.
Smurthwaite's statement on the club website said: "Most supporters are no doubt aware about the announcement from the FA about the re-structuring of the National League System Restructure for Steps 4 to 6. It would appear that ourselves, Yorkshire Amateurs and Liversedge are eligible to take upward movement into a new division at Step 4 in the Northern Premier League.
"The structure of this new division is not yet known but we would hope that it will be a sensible regional division focusing on the North and East of our geographical area to prevent excessive travelling to away games particularly for midweek fixtures.
"The restructuring proposal will go before the FA Council for approval on April 22. Subject to approval, points per game data will be used by the FA to calculate who is eligible to apply for promotion.
"Eligible clubs will be invited to apply for promotion by the FA with the application process opening on April 26 with the deadline being Monday May 3.. An FA sub committee will meet to approve applications on May 10. League constitutions for Season 2021-2022 will be confirmed by the FA on May 17.
"I am currently holding discussions with Brett Agnew and his management team to discuss details of what would be involved with this possible promotion along with other members of the club.
"I have managed the finances of this club since I took over the ownership and also put in finances to take this club from a substantial debt to a situation where we now break even each season with all the bills paid.
"This has been helped with our excellent and dedicated group of volunteers, quite a few of whom have been at the Club since I took over and stayed loyal through "thick and thin" and the "good times and the bad times".
"Obviously money has also been spent on improving all the facilities at the club and resulting in the construction of a brand new club house. To move forward I have to be convinced we can manage financially at the next level of the football pyramid.
"We would need an increase in revenue which I am hoping will come from the Town Bar and also the recent increase in sponsorship at the club and hopefully a resurgence in interest in non-league football after the Covid 19 pandemic.
"It is not just about the finances but we do need more help particularly at away games which will involve even more travel if we do move up as I have stated previously. We have seen this season difficulties in getting regular physios and medical support staff. Difficulties in getting the playing kit to and from Bridlington for away games and other equipment required for the games.
"If anyone feels they can help to fill these positions please contact myself to discuss in more detail. I would also give credit to the management team and players to getting us into this situation to be considered for promotion and I am very proud of the fact that this club is the Senior Club in this area after Hull City which is a credit to all involved at the Club.
"I propose to hold a Fans Forum on Saturday April 24 in the Beer Garden of the Town Bar at a time to be agreed when we can announce our plans and depending on the level of interest numbers will have to be restricted in accordance with Covid Rules but most probably set up a booking system.
"This next stage of the clubs progression is very important and the correct decisions need to be taken. As always thanks for your support, "Onwards and Upwards"."