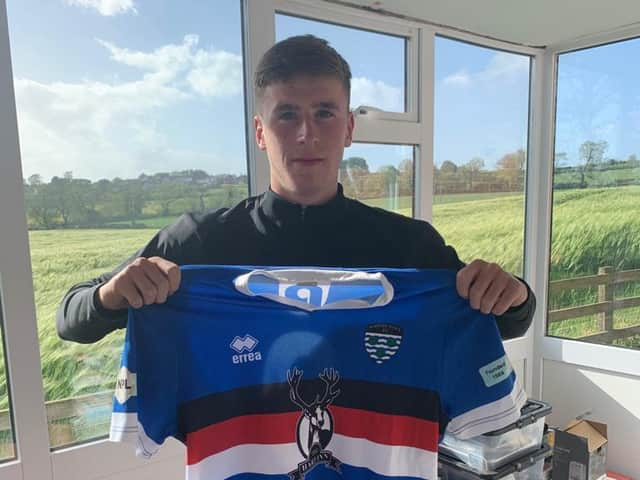 Coleby Shepherd
Town sent former Sunderland youngster Shepherd on loan to Northern League outfit North Shields with the aim of giving him some much-needed game time.
And with managers Nathan Haslam and Lee Bullock holding out high hopes for the ex-Hartlepool United man, they will be hoping to show Blues fans what the player is all about in the upcoming campaign.
He plans to use the pre-season schedule as a chance to excel and show the club's bosses that he deserves a place in the starting eleven.
"My loan spell really helped me to build some confidence for when I return back to Whitby," he said.
"The loan has helped me to get a better understanding of men's football and it has challenged me in different ways. It was a great experience and I really enjoyed it at a great club."
Shepherd was signed in the summer of 2020 and made a number of appearances in their previous pre-season campaign, scoring in a 2-0 win over Sunderland Under-23s at the Academy of Light where his footballing career began.
Having come through the Black Cats' youth ranks, making the transition into non-league football has been challenging, however having gained crucial experience in the Northern League with North Shields, Shepherd feels that he is adapting to the style of play at the level.
"Non-league is certainly a lot different to what I was used to in my youth days," he said.
"It's a lot more physical and there's a lot more emphasis on winning, which was not the case at Hartlepool and Sunderland where it was just about developing players.
"You don't have to win playing nice football, but just do whatever you can to get the win."
Having still attended training sessions with the Seasiders squad during his loan spell, Shepherd gained a strong sense of the optimism that is amongst their ranks.
And the player himself senses this positivity and hopes that he can play a part in what many at the club hope is a memorable campaign at the Towbar Express Stadium.
"My ultimate aim is to get into the Whitby side next season," said Shepherd. "I want to progress my career even more and the other lads at the club can help me.
He added: "All of the lads are buzzing to be back in training which is exactly what we'd expect after being out of action for months.
"We all wanted to get back so it's great that we've been able to do that and get ready for the new season which will hopefully go well."