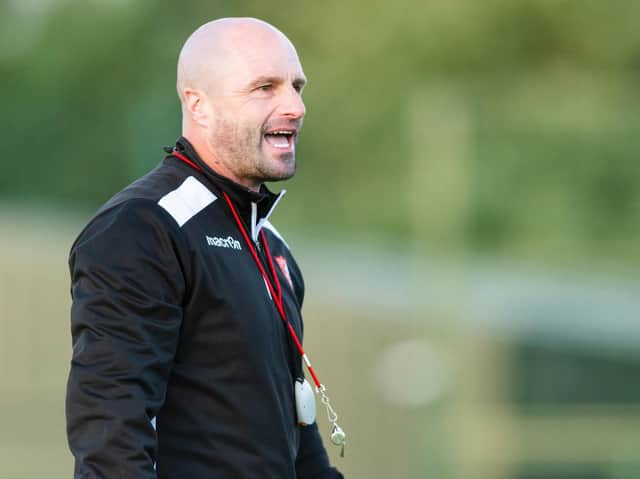 Scarborough Athletic manager Darren Kelly
Kelly has been chasing a striker for a couple of months now and is hoping to finally get the deal over the line this week.
The Boro boss, who has worked with the striker before, is hoping to get contracts signed and then international clearance will be needed before he can make his long-awaited debut for the club.
"It would be fantastic to finally get this one over the line, I have been chasing this player for a while now and I know he's had a lot of interest from other clubs, some at a higher level," said Kelly.
"He'll come in and train with us on Thursday and then it'll just be a case of getting his international clearance sorted.
"The terms have all been agreed with his agent this week so we just need to get things signed and sealed and over the line now.
"I firmly believe this player will add so much to the side, he's a big 6ft 5 striker who can hold the ball up but also run in behind and turn defenders, so he'll really improve the side and help out our forward players."
Kelly admits he is exploring his options as his squad continues to grow more depleted.
Goalkeeper Ryan Whitley is cup tied for Saturday's FA Trophy tie against Witton Albion, while Kelly confirmed Kian Spence and Dylan Cogill missed Tuesday night's 4-1 defeat at Basford United as they are now required to isolate due to Covid-19.
They join Luke Porritt, Isaac Assenso, Kieran Weledji and Donald Chimalilo, who are all injured.
"It's a concern, but one we will have to manage," added the Athletic manager.
"Ryan is cup tied so I am seeing what we can do as we only have one other goalkeeper in Ethan Hodgson.
"I am always exploring my options and I will keep looking to strengthen our squad as we are very light on numbers."