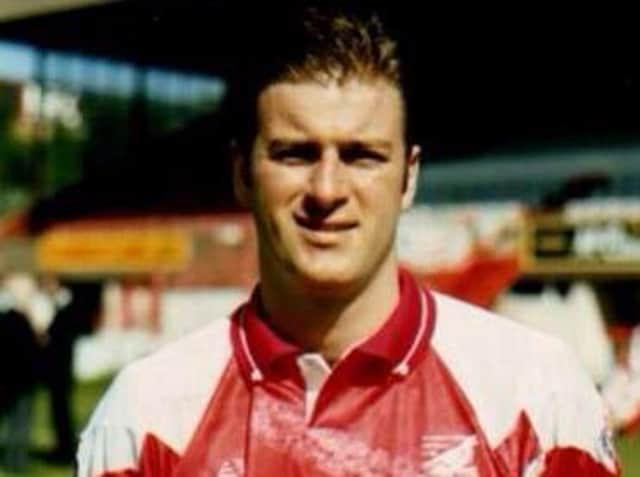 Darren Foreman
The former Fareham Town, Barnsley, Crewe Alexandra and Scarborough striker has taken over from Christian Machen as Athletic physio after a glittering spell on the pitch as a player in the early 1990s.
He said: " When you've been out of football for sometime you miss being involved, I didn't know many people but I'm really enjoying it.
"It was unexpected but Martin (Dowey) approached me about the role and I really wanted to help the club out."
Foreman enjoyed an illustrious career registering himself as Scarborough's all time top goal-scorer in the Football League with 35 goals; 27 of these coming in the 1992-93 season.
He was forced to quit the professional game in 1995 due to injury and hopes that his experience both on and off the pitch can influence the players.
"I understand the game and the players which helps massively, they are able to ask me questions and I can offer my advice where necessary," he added.
"Having experienced injuries myself I know what players are going through and it allows me to approach it in the right manner."
Foreman was in the role when former boss John Deacey departed the club.
He added: "It's always disappointing when a manager leaves, I had a good relationship with John (Deacey) and I was able to work in his team.
"Darren Kelly has given the club a boost and hopefully his fresh ideas/experience can help move the club in the right direction."
Following his exit from professional football, he joined several non-league clubs, including Gateshead, Guiseley and Barrow, before rejoining Scarborough FC to serve in a number of non-playing roles, and he was quick to thank the sponsors and fans for their continued support.
"The sponsors have assisted with new equipment so that we can help players and keep them fit," he added.
"Also, the fans have been brilliant since I've come in, we get big crowds here and that's always a positive.
"I hope that the club can return to the heights of the past, it'll be a struggle because clubs are full-time now and are very competitive.
"It was paramount that the club stabilised having moved to the new ground and then look to work towards future goals."