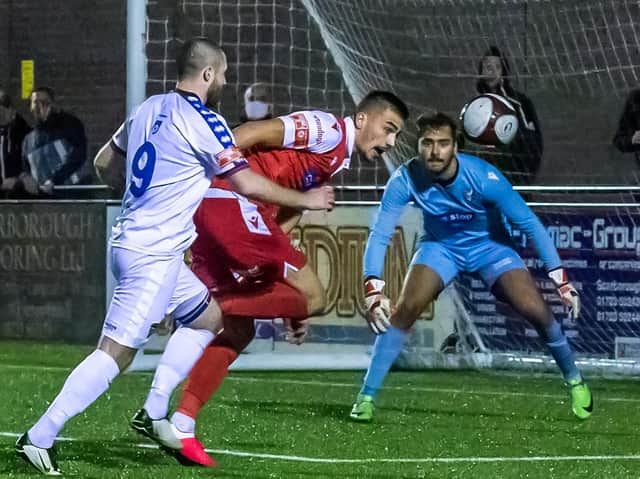 DERBY DELIGHT: Will Thornton fends off Whitby Town striker Brad Fewster during Boro's derby victory at the Flamingo Land Stadium
Thornton arrived at Boro from Guiseley AFC earlier in the recently curtailed 2020/21 season after the club parted with a transfer fee to bring him to the Flamingo Land Stadium - a rarity for clubs at Northern Premier League level.
The 23-year-old centre-back admits there was a bit of pressure when he first arrived due to the fact the club shelled out to acquire his services, but he's grown accustomed to that and is now keen to repay that faith.
"There was a bit of pressure when I first arrived," admits Thornton.
"There was some banter flying round at training when I first came, which was all good as it helps you settle in and I feel like I have done that now.
"The fact the club were prepared to pay a fee to get me from Guiseley was great and while you do feel that pressure to perform, it's a huge boost to the confidence knowing the club and the manager want you to sign.
"It's now up to me to repay that faith by putting in performances on the pitch and helping the club progress up the divisions.
"It's the fan's money at the end of the day and I really want to prove that it was the right move."
While Thornton was taking a step down in levels to join Athletic - he admits it doesn't feel that way due to the size and potential of the Flamingo Land Stadium club.
"Yes, it crossed my mind that I would be dropping down levels, but when you come to Scarborough and see the facilities and knowing how good the supporters are, it doesn't feel that way.
"There is absolutely no reason why Scarborough Athletic couldn't push up the leagues and I really don't see this club being at this level in a couple of years time."
Boro boss Kelly expressed his delight at landing the signature of Thornton when he first joined the club and was quick to point out that his signing was an investment and he believed the centre-back could go on to play in the Football League.
That is music to the ears of Thornton, who added: "That's a great boost to the confidence when your manager says things like that about you.
"Ever since Daz got in touch and said he wanted me to sign it was a move that excited me and no doubt I can improve working with him in the next few years at the club.
"To play in the Football League would be a dream come true for any footballer and I'm no different but that is a long way off and there's a lot of hard work to put in.
"Plus, there's no reason why this club can't push up and play in the Football League, everything is there for Scarborough to push on and move up the levels and hopefully that will start next season."
On the subject of the 2021/22 campaign, Thornton believes the club have the basis of a squad capable of pushing for promotion from the PitchingIn Northern Premier League - both on and off the field.
"The squad is great here at Scarborough, from a playing perspective and also in the dressing room," added the former Bradford City man.
"To say we have barely played any games and haven't had the chance to get together off the field, the atmosphere in the changing room is fantastic.
"There's no bad eggs in the squad and everyone gets on well - which is a huge factor at this level of the game.
"We have a very strong squad in my opinion and it's a real shame the season stopped early because I think we'd have been right up there.
"I think there were times when we were a little light on numbers, we had injuries and looking at the bench - we had the coaches and that was about it - so maybe some strength in depth would help.
"But I think we have a good side there, we were clearly hampered by injuries in the few games we did manage to play this season so it was hard to tell."
Thornton himself was playing with an ankle injury during the prematurely halted 2020/21 season.
"I went in for a challenge and took a knock on my ankle and it ballooned up," he added.
"We didn't get much chance to rest up and already had bad injuries in the squad so I just played through it - and to be fair a few other lads in the side had to do the same too."
The centre-back can't wait to get back into action now, admitting he's excited to play in front of a full compliment of Boro fans having sampled a taste of the Flamingo Land Stadium atmosphere.
"I really can't wait now," he added.
"I played two games in front of the fans and especially in the Whitby match, it felt like more than 600 in there.
"I experienced the Boro fans when I was on loan at Gainsborough and they beat us at home, I remember Tommy Taylor running the full length of the field when they scored the winner and thinking that the fan base was fantastic, so I can wait to play in front on them when we get back to it."