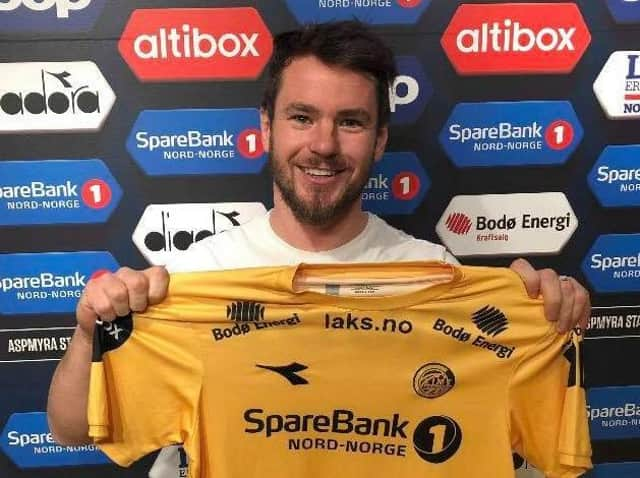 Michael Brown is currently head of medicine and performance at Norwegian side FK Bod Glimt
Brown, a former Scalby FC and Klosters man, left Silver Royd to take up jobs with Castleford Tigers RLFC, Hull City and Notts County before moving to the Arctic Circle.
Bodo Glimt are a club situated in the Arctic Circle in Norway's far north, where there can be near 24 hour s of daylight in the summer – and almost none in the winter under the northern lights.
Bodo, who have never won the title and have average crowds of just 3,200, have just qualified for the Europa League for the first time in 26 years after finishing second behind Molde in the Norwegian top-flight Eliteserien.
Brown said: "It's been really good so far, the team have exceeded expectations and secured Europa League for the first time since 2003.
"My family love it out here, we are 200 miles into the Arctic Circle so the lifestyle is totally different.
"They followed me out here during the 24-hour sunlight period, which took some getting used to for them, but everything is geared towards enjoying family life."
Brown admits the move came about very quickly after a period at a turbulent Notts County.
"I first came out to meet the manager and board in February and everything moved pretty quick, so I moved out here in March and family followed a couple of months later," added Brown.
"My role is head of medicine and performance, which is a similar role to the one I had at Notts County and Hull City, so it's quite similar but just on a smaller scale.
"You don't have the staff numbers you do at home, so I have to be really hands-on to get everyone ready for games."
Brown admits he's been pleasantly surprised by the standard of football in Norway.
He added: "I was really surprised at the standard, especially the intensity games are played at.
"We have been doing well so there's been a lot of scouts from the big English clubs looking at our boys, which tells you standard can't be far off.
"Everyone is excited at the prospect of playing in the Europa League next season and pitting ourselves against the best sides from other countries."
On the subject of the future, Brown admits he's unsure how long he'll stay in the Arctic Circle.
He added: "The lifestyle fits me and the family perfectly at the moment and I have a contract here for the next couple of years, but it's football so anything can happen."