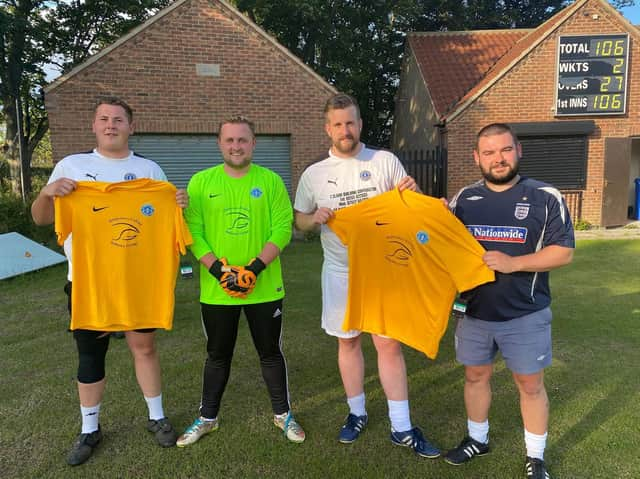 From left, Flamborough FC captain Josh Wood, keeper Elliot Traves, manager Nick Appleby and assistant manager Jordan Forde, show off their kit sponsoerd by Jamie Robertson, MD of the Holderness Fishing Industry Group, based out of Bridlington Harbour
Flamborough played in the Driffield & District League last season, but that league has been suspended so the villagers have returned north with a new-look team.
Flamborough boss Nick Appleby said: "We've moved into it for more competition, we needed a new challenge following the Driffield League and the Scarborough League has given us the perfect opportunity.
"It's essentially a new team with a few players remaining, I played in the Flamborough team in the Scarborough League two years ago, and I'm now going into my second season managing the team.
"It's been a success so far with the added coaching staff too, it's just a shame Covid stopped us winning the league and cups last season.
"Our target in Division Two is simple, and that is to win it.
"We won't settle for positions in the league we've got a great forward in Josh Wood who scores goals for fun, so he's a great asset to us."
Three other teams have joined the league.
Filey Town Reserves' short spell in the Beckett Football League is over as they return to the Scarborough set-up, with another familiar club in Westover Wasps also re-forming after a couple of years inactivity.
Newlands have also re-introduced their Reserves for the 2020/21 campaign.
League secretary John Orrah said: "It's great to have four teams coming into the league, especially given the three that we have lost."
Following the resignation of FC Rosette, another long-serving club have left the league in the form of Ayton, while Eastfield Town have also called it quits.
2020/21 League Constitution:
Division One: Edgehill, Itis Itis Rovers, Seamer, Scalby, Newlands, Filey Town, Hunmanby United, West Pier
Division Two: Edgehill Reserves, Goalsports, Seamer Reserves, West Pier Reserves, Cayton Athletic, Scalby Reserves, Eastfield United, Snainton, Newlands Reserves, Flamborough FC, Westover Wasps, Filey Town Reserves.