Former Scarborough Athletic and Bridlington Town striker Jake Day joins Guiseley
Former Scarborough Athletic and Bridlington Town striker Jake Day has signed for National North side Guiseley.
Thursday, 10th June 2021, 1:15 pm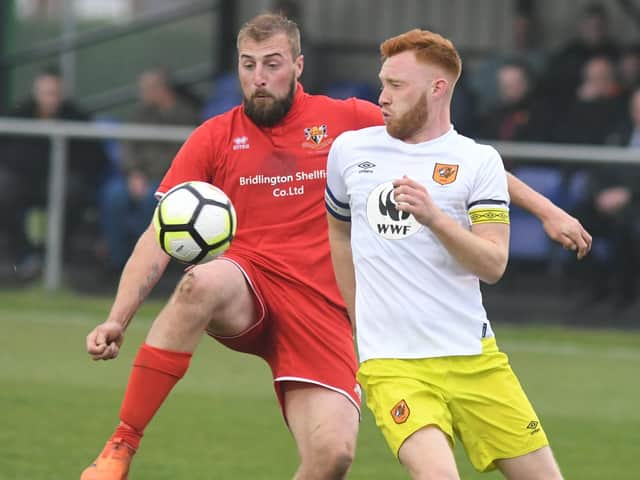 Jake Day in action for Brid Town against Hull City U23s' Lewis Ritson in the 2018-19 ER Senior Cup final
Day, 29, who smacked home 85 goals in 107 games for Brid Town after leaving Boro, has signed for the Lions following his departure from Alfreton Town.
Day was at Queensgate for two and a half years before Curtis Woodhouse, his former Brid Town boss, signed him for Tadcaster Albion, where he played 20 times, and then moved onto Alfreton last season, both campaigns being curtailed by Covid-19.
Speaking to the Guiseley website, Day said: "It is a big step from Step 5 to Step 2 in just four years and I have no history of junior football or being attached to Academies but once I started playing open age football in Sunday leagues and then Saturdays I have always seemed to score a lot of goals.
"I used to play in a pub league and score for fun but I enjoy it a lot more playing with much better players around me.
"I am now looking to press on with Guiseley and I am looking forward to playing in front of a crowd, that has been missing over the past two seasons.
"With my boxing training along with some running and my physical work as a groundworker I feel at peak fitness. I have had 22 fights as a heavyweight and have won 19 of them, 12 on knockouts. Boxing is my other passion and it is great for my fitness."