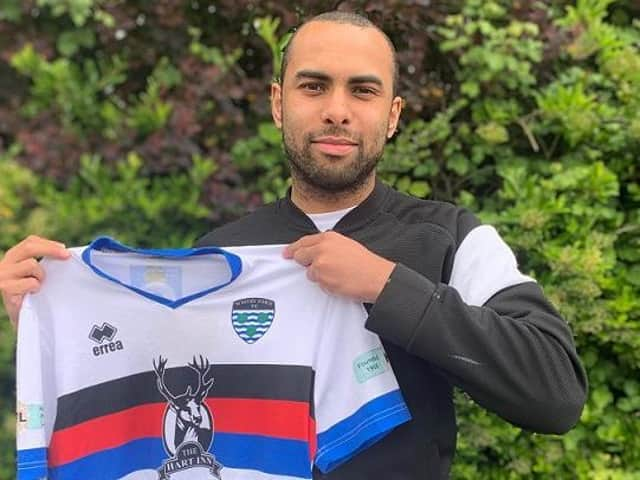 Jacob Hazel has signed for Whitby Town
As well as the two new signings, two current players, defender Jassem Sukar and midfielder Adam Gell, have committed to the club for another season.
The Seasiders made a double signing last Wednesday with Saint Kitts & Nevis internationals Hazel and Ible, both of whom used to play for derby rivals Scarborough, arriving at the Towbar Express Stadium at the Turnbull Ground.
Striker Hazel joined from Frickley Athletic, a clever move from the Seasiders as they managed to snatch their captain and striking talisman who scored an impressive 47 goals in the 2017/18 season.
The Chesterfield Academy graduate initially joined Frickley from Mickleover Sports in 2015 before leaving Yorkshire for a short spell with National League North side Gainsborough Trinity where he was actually loaned out to Farsley Celtic for the majority of his spell at the Northolme.
His next move saw him play for Yorkshire coast rivals Scarborough Athletic where he was also a standout performer, before he returned to Frickley in 2017.
In his career, he has also spent time on loan with FC United of Manchester, Bradford Park Avenue, Buxton and Norwegian side, Sprint Jeloy.
After making his move to the Turnbull Hazel revealed that the opportunity to play in a higher division was too good to turn down, and Chris Hardy's words ahead of the switch made the decision easy for the forward.
"I spoke to Chris Hardy and we had a really good chat about everything," said Hazel.
"I think we share a similar ambition in the game and beyond so that helped to attract me to Whitby Town.
"I also couldn't turn down the opportunity to jump up a level and that was a massive head turner for me."
Also joining up with the Blues is centre-back Jameel Ible who has made the move from Pontefract Collieries, a side who like Frickley play in the division below Town.
Ible's previous clubs include Salford City, York City, Guiseley, Frickley Athletic and Scarborough Athletic, he has played in the same team as Hazel in the past.
The defender shares similar thoughts to his former Frickley teammate Hazel, and is excited about the challenge of jumping up into a new league.
"It was the gaffer who attracted me to Whitby Town," Ible said.
"I know that Whitby is a big club because I've played away against them a couple of times in my career.
"I know Dan Rowe as well so I spoke with him and he only had positive things to say about the club so my discussions helped me to make my mind up about joining."
Signing on for next season were defender Jassem Sukar and midfielder Adam Gell, two popular players amongst the Whitby Town faithful during their times at the club.
Despite Hardy bringing Sukar in as a left-back, he has also played the former Dundee United man in the centre of defence to suit his wing-back system that feature prominently in the 2019/20 season.
Gell on the other hand is very much settled with his position in the centre of midfield and has become a well respected player in his two spells with the Blues.
He is described as a box-to-box midfielder and he was considered one of the best in the Northern League at the time he left Guisborough Town to join Whitby in 2015.
As expected from a midfield player, he is comfortable on the ball and is great for turning defence into attack quickly.
He did leave Town in 2017 for a return to the Northern League with Shildon, however he needed little persuasion to return a year later and he scored in his first competitive game back with
the club, netting the winner in a 1-0 opening day victory over Buxton at the Turnbull.