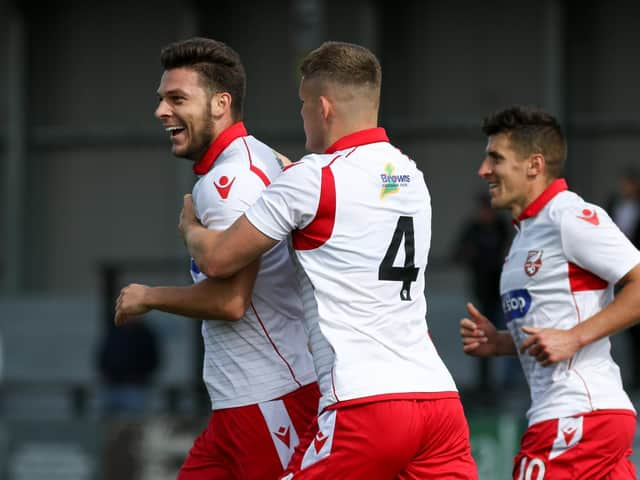 CAPTAIN COATES: Harry Coates, above on the ball against FC United of Manchester, has expressed his pride at being named vice captain of Scarborough Athletic
Coates had just had what he believes to be the best season of his career to date and was eyeing up a move up the non league pyramid after dropping down the levels to play for Tadcaster Albion.
"I'd had what I thought was the best season of my career at Tadcaster and thought I needed to move back up to a higher level," said Coates.
"I genuinely wanted Scarborough Athletic to come in for me and in the end John Deacey came and met me after ringing me and I didn't hesitate in signing.
"They are one of the biggest clubs in non league and I always loved playing away against them and in front of their fans - it's always fantastic playing in front of a big crowd."
Coates started out at York City, admitting he had high hopes of earning a professional deal with the Minstermen.
Those hopes were soon dashed however, Coates adding: "I was hopeful of getting a pro contract at York City as I thought I'd done well and had been travelling away and training with the pros in my final year, but no contracts were offered out that year for whatever reason.
"It was disappointing but with no reserve team or Under-21 football at York at the time anyone they were going to put on a contract had to be near enough ready for first team football."
After leaving York, Coates moved to Harrogate Town, but ended up spending the bulk of his time with the Sulphurites playing for Harrogate Railway on dual registration terms.
"I didn't play much football at Harrogate, spending most of my time out with Railway," added Coates.
"Carts [Nathan Cartman] was there and we had some good times there, but I ended up speaking to Simon Weaver and deciding to move on as I knew I needed to play football."
After a brief spell at Bradford Park Avenue, Darren Kelly attracted Coates to Hyde United.
"They were struggling a bit when I first went in, but we did well and then ended up getting promoted there too," he added.
"I'm not quite sure why, but the team kind of went different ways at the end of the season and I ended up going to Tadcaster Albion with Paddy Miller and having a great time.
"I think I had my best season while at Taddy, winning the Fans' Player of the Year and Player's Player of the Year awards."
Coates got his wishes in the summer of 2019 when Boro boss John Deacey came in for him.
That period didn't turn out how Coates had hoped or expected as he suffered an ankle ligament injury and was forced to watch his new club struggle under their new manager, who was sacked before December.
"I like John," said Coates.
"I don't have a bad word to say about him. He signed me at the club and I think he was pretty unlucky during his time with the club.
"Wally [James Walshaw] got injured at a similar time to me and I don't think John ever really had his full-strength side available to him.
"Luckily for me, when John left the club hired Daz, who I obviously knew from my time at York and Hyde."
Coates, much like Kelly, has yet to complete a full season with Scarborough Athletic after the coronavirus pandemic resulted in the 2019/20 season being declared null and void - with the 2020/21 campaign likely to follow suit.
"It's really frustrating," admitted Coates.
"We are all so keen to push on and try to push for promotion - but I have been here two years now and still not been able to finish a season."
However, Coates is remaining positive and looking forward to a successful career with Boro.
The 25-year-old, who was named as the club's vice-captain ahead of the seemingly doomed 2020/21 season by boss Kelly, thinks the manager has built a strong squad who could challenge for promotion from the Northern Premier League when action eventually resumes.
"One thing I know Daz prides himself on is doing his research into players he is looking to bring into a club and making sure they will have a positive impact in the dressing room as well as on the pitch," he added.
"We have a fantastic group and it's a balanced group as well, everyone brings something to the table."
On the vice-captaincy, Coates added: "I am privileged to be handed the vice-captaincy at a club like Scarborough.
"Unfortunately for Coulo [Michael Coulson], he suffered a bad knock, but I was so proud to lead the boys out while he was injured.
"It's something I have always aspired to do [be a captain], so I was proud to be able to lead Scarborough out."
Kelly is likely to have a host of centre-backs available whenever action resumes, with Coates, Bailey Gooda, Kieran Weledji, Isaac Assenso, Will Thornton and Dylan Cogill on Boro's books - as well as versatile defender Josh Barrett.
That competition doesn't faze Coates however.
"I think competition for places is hugely important in any team," he added.
"It's great that the gaffer has options at the back and I'm sure all of us will be keen to impress when we get back up and running."