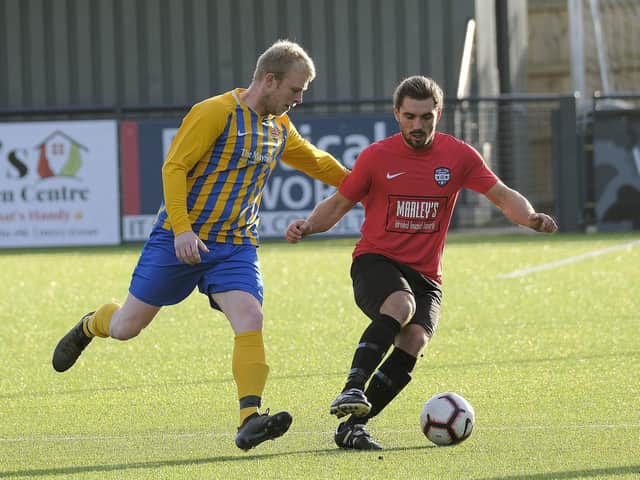 Itis Itis defender Curtis Rose, right, will be eager to shine in this weekend's NRCFA cup final
Both games have been carried over from the 2019-20 season, and although grassroots leagues were declared null and void due to the coronavirus pandemic, the NRCFA were always keen to see their cup competitions played to a conclusion.
Itis Itis Rovers will be looking to defend their NRCFA Saturday Challenge Cup final on Saturday, the game being played at the Flamingo Land Stadium, 2pm kick-off.
Their opponents will be York League outfit Bishopthorpe United.
Itis Itis boss Jordan Lee said: "The build-up to the final hasn't been ideal, but once we got the date everything changed.
"It was very difficult to get the lads motivated to train with nothing in sight, but once it was announced that it was to be played on Saturday I think the mentality in the lads just switched and the hunger was back again.
"Obviously the rules within lockdown have made things a little bit different in our preparation for this game, but we're in the same boat as everyone else so it's just a case of getting on with it.
"It's going to be strange having to play the game behind closed doors, obviously with the tie being played at our home ground.
"We would have loved for fans to be able to come in and get behind the lads and its a massive shame that that's not going to be possible."
Newlands head to Kader FC, Middlesbrough, on Sunday for the NRCFA Sunday Challenge Cup final against Village Park Rangers, 10.30am kick-off.
Newlands player-manager Dan Sheader said: "We had been well-placed in the league and still in a couple of cups so it is great to get this chance to win something.
"We started back training six weeks ago with a bit of PT and some ballwork, then we have had three friendly matches.
"We won the first one 10-2 against West Pier Reserves Saturday League team, then beat Cayton's Sunday League side 11-2 after a slow start and - despite being without a few players - we drew 1-1 with Itis Itis Rovers last weekend.
"The lads have all kept themselves very fit during the lockdown and I have a full squad to choose from.
"Village Park Rangers, who are in the Stockton Sunday League, were unbeaten before the leagues stopped due to coronavirus but we were also undefeated in the league so it should make for a good final on Sunday."