Jackson's joy after making Scarborough Athletic switch
New signing Ashley Jackson admits the challenge of getting Scarborough Athletic promoted helped attract him to sign for the club.
Thursday, 6th August 2020, 9:15 am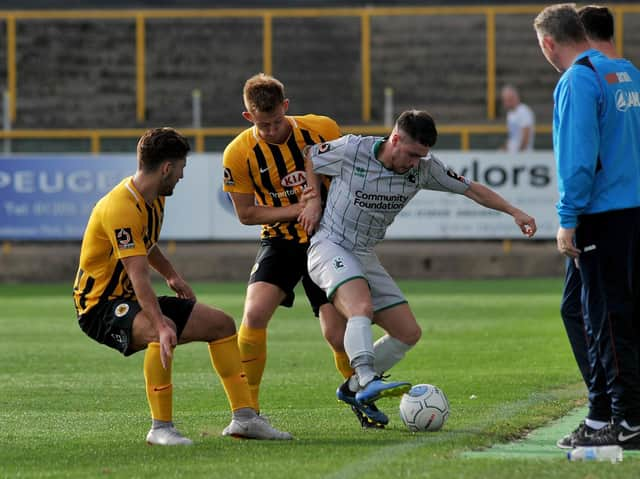 FRESH START: Ashley Jackson in action for Boston United - the left-back has joined Scarborough Athletic
Jackson has stepped down a level after leaving National League North outift Boston United to sign for Darren Kelly's side, but the left-sided defender hopes that will be a temporary stay in the NPL.
The 26-year-old former Scunthorpe United man said: "I'm delighted to be joining such a big club and can't wait to get going now.
"Darren (Kelly) has been in touch with me in the past when I left Ossett to sign for Boston, and when he contacted me again recently about coming to Scarborough, I didn't hesitate in signing.
"It's a big club in non league football and they traditionally get good crowds too - I have been on the receiving end before and have to say I loved it."
Jackson admits the opportunity to play for Kelly also made his decision to sign for Athletic a fairly straightforward one.
"He is very highly regarded in the game, I've heard only good things about playing for him and how professional his approach is," added Jackson.
"I've spoken to a few players about him and everyone had only positive words to say about him, so I am looking forward to getting stuck in and ultimately improving my game too."
Jackson found game time hard to come by in the 2019/20 season, despite a strong showing the previous campaign, and admits he can't wait to get more regular playing time under his belt whenever the NPL action gets started.
"I was flying the season before, but for whatever reason, I found it hard to get as much playing time last season," added Jackson.
"I love to get up and down the flank and have played in a few positions too, although I enjoy that wing-back role as I like to get forward.
"It was great to get started Tuesday night, the lads all made me feel welcome and it was good to get out on the grass again and get some minutes in."