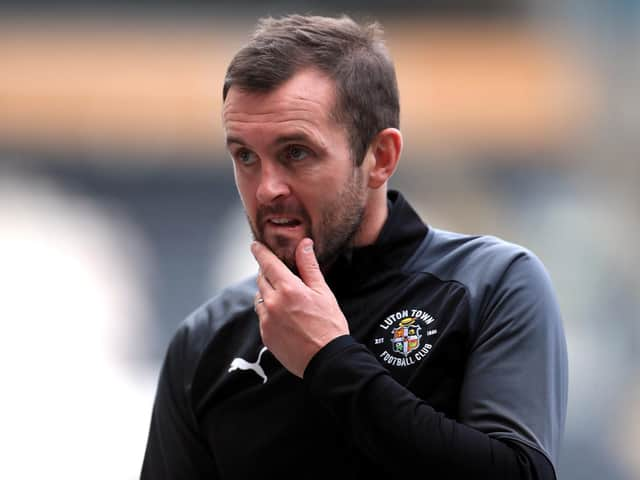 Luton Town boss Nathan Jones
Speaking to The Coaches' Voice about the well-documented and dramatic relegation after goalkeeper Jimmy Glass' last-gasp goal for Carlisle, Jones said: "The options were Bristol Rovers, at the time managed by Ian Holloway, or Scarborough.
"In normal circumstances, I would have gone to Bristol Rovers – a bigger club in a higher division and closer to home.
"But Colin Addison was in charge at Scarborough, and I felt I owed him something.
"I knew it was only going to be for a short period of time – at that time, deadline day was in March – and they were fighting to stay in the league.
"I thought I could go there and have an impact.
It was a crazy time. I went there as a left-back but ended up playing in central midfield because I was probably a better level of footballer than they had there at the time.
"I think they had been bottom of the league when Colin took over, but their form had really picked up and a few games before the end of the season, we beat Carlisle 3-0 at our place.
"Going into the final game of the season, we were a point above Carlisle at the bottom.
"All we had to do was equal their result.
"We were at home to Peterborough, who had been chasing a place in the playoffs, and they were at home to Plymouth.
"Our game finished 1-1. I'd come off with about 20 minutes to go, and just stood there waiting.
"When full-time came, the whole place erupted. Carlisle were drawing too.
"I remember it vividly. We went into the changing room, where there was a TV.
"It was an eerie feeling, because you could hear all the celebrations outside while we all stood in silence, waiting for actual confirmation that their game was over.
"It's easy to say in hindsight, but there was just this feeling that things weren't going to go right for us.
"Everyone knows what happened: the Carlisle goalkeeper, Jimmy Glass, went up and scored a late winner.
"The late winner that relegated Scarborough from the Football League.
"I loved my time there – there was a real working-class humility to both the club and the town – but those final few minutes were tough to take for everyone involved."