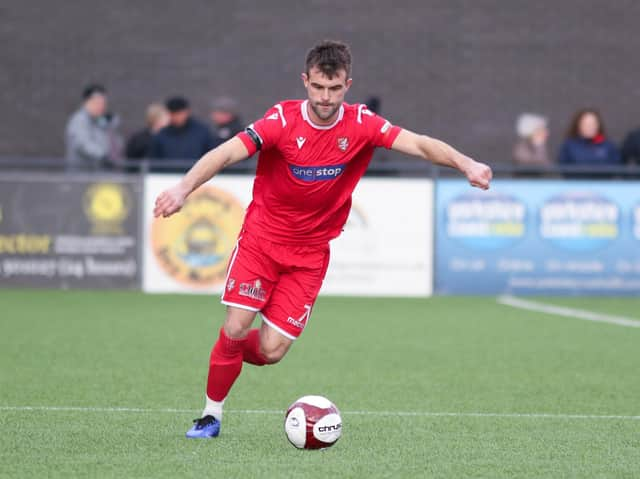 Ryan Watson scooped three awards at Scarborough Athletics end of season awards ceremony on Saturday
Watson was named as the Manager's Player of the Year, the Players' Player of the Year and Supporters' Player of the Year.
Midfielder Watson said: "I'd like to think I had a pretty good season, but you still don't expect to win three awards like that so it was brilliant.
"The season didn't get off to the best starts early doors under John (Deacey), but Darren Kelly has come in and things have picked up.
"Darren has been a breath of fresh air, has made one or two tweaks and things picked up and we're enjoying our football again.
"It was a shame we didn't get the season finished as I think the way we were playing we could've sneaked into the play-offs, but there's more important things in life at the moment than football."
Watson is keen to stay at Scarborough Athletic next season, whenever that may be as uncertainty hangs over the game amid the chaos of the coronavirus pandemic.
"Of course I'd love to stay at Scarborough Athletic," added Watson.
"Ever since I came in under Steve Kittrick I have loved my time with this club, the whole set-up is fantastic and I love playing in front of our fans.
"I doubt there's any clubs in our league and maybe even a league above who can offer a fanbase like ours, so if we can come to an arrangement I would love to stay here."
Boss Kelly said: "I have to say, there were a number of players who could've easily won this award as they have all been absolutely fantastic for me since I came in.
"Ryan though has been consistently superb, has barely missed a minute, let alone a game, and has been hugely influential for us in the second half of the season.
"He adapted so well to sitting a little deeper and orchestrating things when Pete Davidson picked up a knock and he can also operate a little further forward in more advanced areas - he's a real asset to the club."