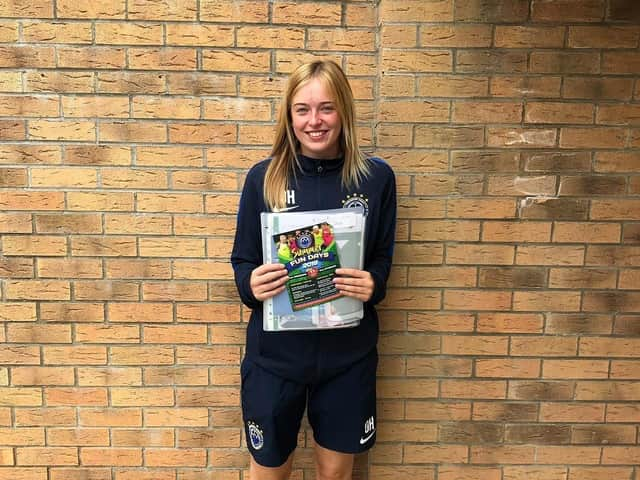 Olivia Hall has been recognised by the North Riding County FA
Hall was busy coaching when she was told the news, and admitted that she was shocked to have been given the award.
She said: "I was so shocked and I didn't have a clue at all that I'd won the award.
"I was buzzing as well, especially with the award being for respect and to me that's a big thing being a female coach and footballer."
Hall manages to keep busy by coaching an Under-Eights team which has helped improve her development and knowledge of the game.
"I've coached them for two years now and I absolutely love it," she told The Scarborough News.
"Before lockdown we were training once a week, with games on a weekend and they are an absolute pleasure to coach.
"It really helps me and this is my second year as a grassroots coach and I've enjoyed learning from the community and other coaches to improve my own style."
The women's game is continuing to grow and Hall has made sure she is a big part of that by joining the North Riding Female Mentoring Scheme.
"It's really rewarding to be a part of it and YCFA are the only company in Scarborough to have a female coach and it's absolutely brilliant," she added.
"It's great that the scheme is there because it gives me the chance to speak to other females from other counties, to discuss ideas and take on advice.
"The guys that I work with always give me amazing advice, but to get it from a female perspective as well is really nice and it's improved my confidence."
The idea of seing women's football growing on the Yorkshire Coast is something that excites Hall and she hopes to be a huge part of it in the near future.
She added: "As a child there weren't as many opportunities for me as a female, so I want to be able to offer them to other people in our local community.
"I've recently been taking training for being a female friendly club and I'll be looking to implement this into the community, to get more girls involved in the sport."