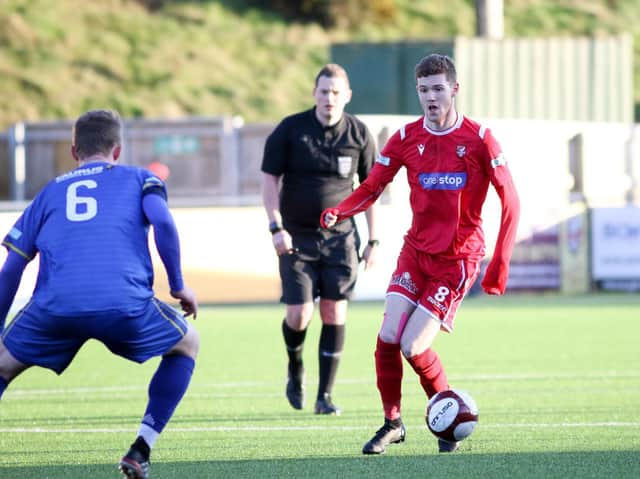 Salford City midfielder Kieran Glynn is loving his loan spell with Scarborough Athletic and admits hed love to stay
Twenty-two-year-old Glynn has impressed since joining Athletic on loan from League Two Salford City, including bagging a stunning winner in the 1-0 win at Hyde United.
"I've already discussed with Darren that I would love to stay here and hopefully push for promotion next year if we don't make the play-offs this year," said Glynn.
"Obviously I have to consider my options of full-time and part-time football.
"If it was a case that full- time football was to not come about, I'd have every intention in signing for Scarborough Athletic, and hopefully helping this sleeping giant of a club progress to where they should rightly be."
The former FC United of Manchester man is expecting to leave Salford City in the summer when his contract expires as The Ammies look to continue their rapid ascent through the divisions.
And if he does leave the Peninsula Stadium, he's keen to find a club where he's appreciated and can progress.
Glynn, who has also enjoyed loan spells at Woking, Chorley and Southport, added: "Obviously my contract is up at the end of the season with Salford and being a realist, they've probably got aims to progress further as they are ambitious and rightly so, but I don't see me forcing my way in there.
"I think that the best way for me to progress is to find a club where I am loved as a player and a club which sees me as an asset."
"Whether that will be here remains to be seen."
Glynn admits he's loving his time with the Flamingo Land Stadium club.
"I'm loving life at Boro," added Glynn.
"The lads are putting in performance after performance, week in, week out and I'm playing regularly which is all I can ask for."
The on-loan midfielder has been impressed with the backing from the terraces during his time at the club to date.
He added: "A big part of non league is the fans and no more so than the fan-owned clubs like Scarborough.
"I love hearing them chanting week in, week out. I remember I was warming up before the Hyde game and a couple of them shouted me over and they were telling me how good a player they think I am.
"Hearing stuff like that is the best thing to hear and the confidence it gave me was unreal."
Glynn has also been blown away by the team spirit among the Boro squad, insisting it's the best dressing room he has been a part of.
"The lads here are a class above anything I've been involved with before, both on and off the pitch," he added.
"Along with the fans, I feel like I've settled in quickly and all I can do is thank my teammates and the people that turn up week in, week out."
Boss Kelly hasn't played down his admiration for Glynn, admitting he's tried to sign the creative midfielder on no less than four occasions previously when he was in charge at Hyde United.
Glynn has been impressed with Kelly's management since coming to Boro, admitting he feels like he's getting back to his best.
"I knew the gaffer from when I was at FC United and he was the manager at Hyde and I've always stayed in contact with him as he's someone that likes me as a player which is all you can ask as a player," added Glynn.
"He's made it very clear he likes me as a player and he's the type of manager that I can see myself thriving under.
"I can see myself working under him in the long-term. He's the perfect man manager, which is also perfect for me.
"I feel like I'm getting back to my best football again too which is always good."