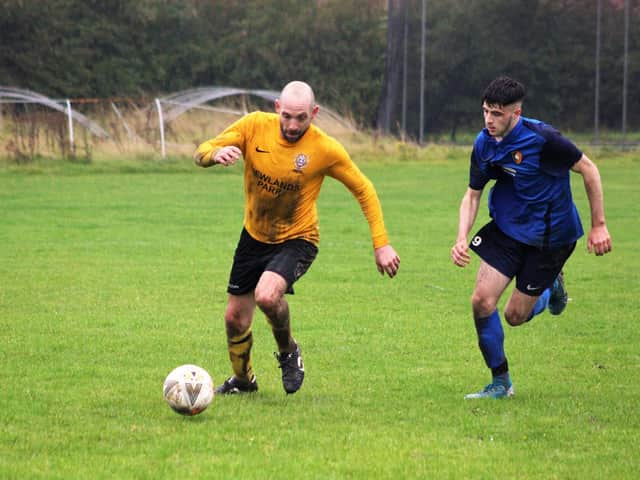 Newlands Reserves' Jamie Gallagher gets away from Edgehill Reserves' two-goal hero Jake Reeves PHOTO BY ALEC COULSON
Exley opened the scoring for Edgehill and Kieran Link made it 2-0 at half-time with a 40-yard lob, Callum Myers making a great save in between to keep Pier at bay.
The lead was lifted to 3-0 on the hour by Exley and sub Joel Ramm rounded off the win, Link was named man of the match for a great all-round midfield display, while Pier boss Will Jenkinson praised his younger players.
Newlands dug deep to earn a 1-0 win at Itis Itis Rovers through Ben Luntley's well-taken goal.
Edgehill Reserves' Andy Noon wins a header PHOTO BY ALEC COULSON
Luntley's late penalty was well-saved by Ben Rowe, but Luntley was named man of the match for Newlands, with Liam Mintoft also impressing, while Sam Pickard was star man for Rovers.
Seamer Sports claimed a last-gasp 2-1 win at Scalby thanks to Danny Glendinning's penalty, the final kick of the game.
Gary Lawton put Seamer ahead on 25 minutes, but right-back Finlay Marsh levelled for Scalby.
Midfielder Ben Webster and Marsh were the Scalby men of the match while Seamer's star man was Ricky Greening, with Jake Moore also impressing at centre-back.
Filey Town Reserves surged to a 7-2 home win against Goal Sports to lead Division Two.
Joe Gage and Jon Keeble scored two goals apiece for Town, the latter changing the game as a half-time sub, with man of the match Aaron Howard, James Smith and Craig Oliver also on target.
A stunning strike from Jordan Padgham and Kieran Greziowski's effort were all a below-par visiting team could muster, with Aaron Padgham their man of the match.
Flamborough are second after their 11-2 home win against FC Rosette, Josh Wood leading the way with four goals.
The other Boro scorers were Oli Robinson (2), Mitch Collins, Jack Almond, James Hodgson, Brad Jenkinson and Joe Mattinson, Robinson and Ross Pearson sharing their man of the match award.
Zac Hansen fired in four as fellow newcomers Westover Wasps soared to a 7-1 home win against Eastfield Athletic.
Man of the match Chris Hannam, Jack South and Jack McFarlane also netted for Wasps.
Edgehill Reserves opened their account for the season with a 4-1 success against visitors Newlands Resrves.
Goals from Jake Reeves (2), Joseph Fergus and Max Wright sealed the win, with Lee Cappleman replying for Newlands.
Ellis Sellers was man of the match for Newlands, while 16-year-old Fergus and veteran Carl Hepples shared the Edgehill award.
In the NRCFA Saturday Challenge Cup, West Pier Reserves lost out 4-2 on penalties at home to York Elim.
The visitors opened the scoring in the first half only for Terry Day to level before the break, and with no further goals in the 90 minutes the tie went to penalties, only for Pier to lose the shoot-out.
Filey Town also went out of the ERCFA Senior Country Cup, losing out 2-1 at Burton Agnes-based Telegraph.
Luke Priestley notched on his debut for Town.