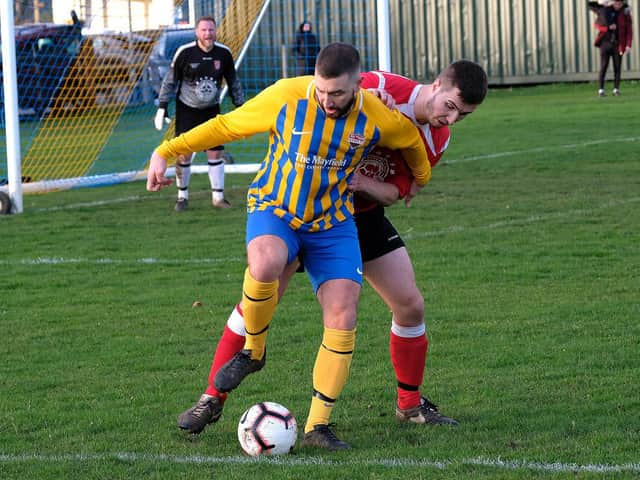 ON THE BALL: Seamer's Ricky Greening fends off a Filey defender. Picture by Richard Ponter.
Hosts Seamer led through goals from Tom Greenwood and Danny Glendinning, but Filey Town weren't to be denied and a Tom Micklethwaite penalty and a late Aaron Howard effort earned Phil Dickens' side a point.
Dean Craig and Harry Holden shone for Seamer, while Micklethwaite impressed for Filey.
An entertaining encounter between Itis Itis Rovers and West Pier somehow ended up goalless.
Both Rovers boss Jordan Lee and Pier player-manager Will Jenkinson agreed that a draw was a fair result in an end-to-end contest that saw chances at both ends.
Lee was impressed with his entire side, while Jenkinson singled out Mikey Pickering and Steve Sheader.
The clash between title rivals Newlands and Edgehill was postponed due to a waterlogged pitch.
There was a shock result in Division Two as Scalby Reserves cruised past title contenders West Pier Reserves by a 5-1 scoreline.
Scalby led at the break courtesy of Sam Foy's strike, before they pulled away in the second half - Foy netting his second before goals from George Bramham, Tommy Day and a long-range striker from veteran Dave Oxley.
Terry Day was on target with Pier's solitary strike.
Joint-boss Steve Marsh was full of praise for his entire side after their win, while Pier manager Johnny McGough admitted Scalby were the better side on the day.
Two goals from Fin McGregor inspired Newlands Reserves to a 5-4 win over FC Rosette.
Efforts from Chris Pearson, Tristan Mustoe and man of the match Kieran Wade guided Jamie Gallagher's side to the three points.
Dane Robinson was in fine form and unlucky to end up on the losing side after smashing a hat-trick, with their other goal coming via an own goal.
Westover Wasps moved to within a point of table-toppers West Pier Reserves with a 4-2 win against Eastfield Athletic.
Josh Beach's side had four different names on the scoresheet as they bagged the three points - but they had to work hard for the win after Andy Thorpe's Athletic side led 2-0 through goals from debutant Luke Kirby and Craig Larvin.
Aidan McCallion, Liam Buglass, Brad Marshall and Jamie Hartley were on target for the Wasps, whose star men were Buglass and Ryan Matson.
Thorpe singled out another debutant, goalkeeper Michael Hinton as his side's man of the match.
Edgehill Reserves gave a good account of themselves but ultimately exited the North Riding Saturday Challenge Cup after a 5-3 defeat at holders Bishopthorpe.
Alec Coulson's side led 3-1 courtesy of goals from Liam Cooper, Ted Edwards and man of the match Jake Reeves.
However, Bishopthorpe, who beat Itis Itis Rovers on penalties in a delayed final at the Flamingo Land Stadium, ensured the defence of their trophy continued as they battled back to win 5-3.
Goal Sports crashed out after an 11-1 hammering at Richmond Mavericks.
Man of the match Kieran Grzeskowski equalised after the hosts had gone in front early on - but Mark Plumpton's side were well beaten in the end.