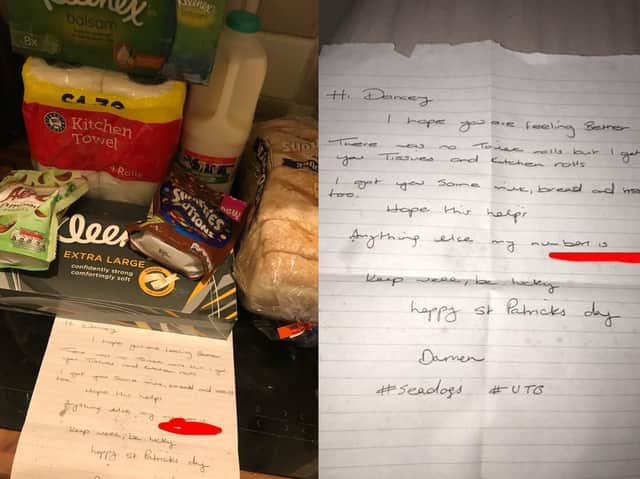 The essentials and letter Scarborough Athletic boss Darren Kelly left for a stricken fan based in York
York-based Boro fan Darcey Boyes was stuck without supplies and unable to leave her house as she was self isolating.
Manager Darren Kelly saw a post on social media and raced to help the stricken Scarborough Athletic supporter out.
"I'm in York for university and my friends are also self isolating and family live back in Filey so I wasn't able to get any shopping myself," said Boro fan Boyes.
"A fellow fan shared my Tweet and Darren messaged me asking what I needed so I just asked for some toilet roll and he came first thing the next morning leaving a carrier bag full of shopping for me and a letter.
"It just shows not only what an amazing manager we have at the club but also an amazing person.
"I really couldn't appreciate his gesture enough at all."
The Boro boss insisted he was only too pleased to help out, adding: "I was only too pleased to help out and drop off some shopping for her.
"I'm a people person and to also know that this person was a supporter made it all the more important to me to help out.
"That is an approach we're also going to have to take in the community in the near future too."