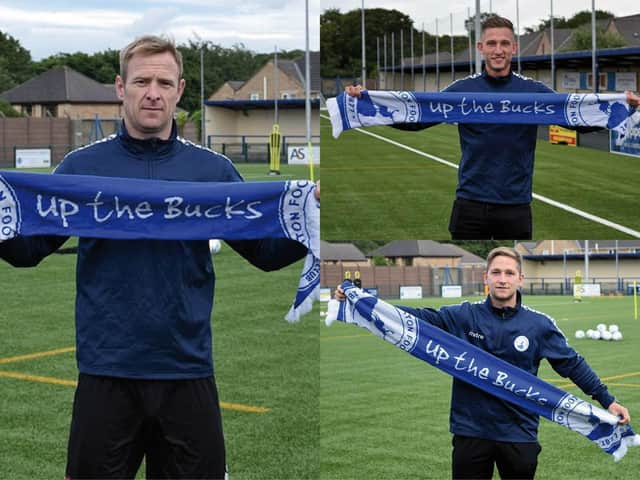 James Walshaw, Tommy Taylor and Chris Dawson have left Boro to sign for Buxton. Pictures: Buxton FC
Boro fans, and Kelly himself, were left stunned as Tommy Taylor, James Walshaw and Chris Dawson all left to sign for the Bucks.
"It's gutting and fairly deflating at the moment, but one thing is clear for me, no player is bigger than the club," said Kelly.
"It's particularly frustrating as while we hadn't put pen to paper, Walshaw and Dawson had agreed to stay with us for next season.
"Obviously it happens at this level of football, it is just incredibly frustrating when a player goes back on that agreement.
"Look, I'm not daft, I know that money talks at any level and this league is no different, but if a player is motivated by money I don't want them at the club anyway.
"Obviously it has to play a part, but we want ambitious players who want to play for Scarborough Athletic.
"One thing is clear - if anyone wants to leave this club they are welcome to do so. We want people who want to pull that shirt on and be here."
The former Oldham Athletic and Halifax Town manager was also left disappointed by the manner in which Walshaw and Dawson left the club.
He added: "They sent me a text, which in my opinion isn't the way to go about it really.
"With Tommy, I met him and his dad on Friday night in Leeds and came away feeling he wouldn't be staying, but to his credit he at least picked the phone up and rang me to inform me of his decision.
"I had hoped Tommy would be making the step up in levels if he did leave, and in my opinion it's a backwards step going to Buxton, but that is his decision and I wish them all the best in the future, it's just a shame how it has happened."
Kelly was keen to re-assure the club's fans that he is still confident of a successful season and has already sprung into action to being in adequate replacements for the trio.
"It's sad for the fans, I accept that," added the Boro boss.
"Nobody likes to see key players, and popular players, leave their club, but again I re-iterate, nobody is bigger than the club.
"Life goes on and there are more important things to worry about, that's for sure.
"As soon as I knew about them leaving, I was straight on the phone working hard at identifying and chasing up replacements, and my phone has been going mad ever since.
"I have a couple of primary targets in mind to come in and improve the side and I hope to be able to get these done soon - although things will move a little slower than usual given the fact pre-season hasn't started yet and we don't know when the season will start or if we'll have all our fans at games when it does."
Kelly is happy with his options in both midfield and in the final third, despite Walshaw and Dawson moving on.
Ryan Watson, Kieran Glynn, Michael Coulson and Kian Spence look set to battle for the midfield berths, with Nathan Cartman and Ryan Blott options up top, along with a potential return for Flynn McNaughton.
"We have a very strong midfield lined up with good options in there, but I'd like to add to that to compliment it if possible," added Kelly.
"Obviously things can change with performances in pre-season, but would Dawson have been in the starting 11 to begin with, probably not.
"And again, up top we are looking good with Nathan (Cartman) and Ryan (Blott) up there and the possibility of Flynn (McNaughton) coming into the group if he does well pre-season.
"We'll be looking to bring someone in to compliment them though and I have a number of strong targets in mind."
Kelly has been planning for the potential departure of Taylor for a while now with his trial at an SPL club on the horizon for a while.
"Again I have a few keepers in mind to come in," added Kelly.
"It's a key position, and to be honest I still believe Tommy is the best keeper in the division, so it will be tough to replace him, but we'll work hard to get it right."