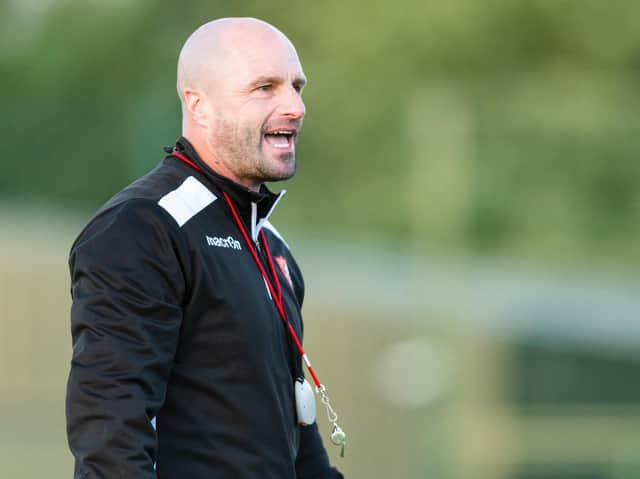 Boro boss Darren Kelly
An NPL statement last night indicated the pause to the 2020/21 season will continue for the time being, with further confirmation set to follow shortly.
The statement said: "The Clubs in membership of the Northern Premier, Southern and Isthmian Leagues (the Trident Leagues) met earlier this week to consider the challenges and issues brought about by the reintroduction of Tiers after the raising of the nationwide lockdown with effect from yesterday (Wednesday).
"The clubs were asked to vote on a proposition that the pause in fixtures be continued with a regular review in light of changes to the Tiers and/or grants becoming available.
"The total votes cast by the 224 Clubs show a substantial number of Clubs in agreement with the proposition.
"The matter has been considered today and is subject to comment by The FA.
"A further statement will be issued in due course."
Boro boss Kelly added: "It's a difficult time with this horrible virus and lots of people are sadly losing their lives to it, so I am mindful of that.
"But from a football perspective it's incredibly frustrating as all we want to do is get back out on the training pitch and then ultimately back at the Flamingo Land Stadium in front our brilliant supporters.
"The players are itching to get back to it, we had a good virtual meeting and then a fitness session that Bailey Gooda ran, which was fantastic - the players can't wait to get back to it now.
"We have said it time and time again though, we can't play without fans at this level of football - it just isn't viable.
"Scarborough has already lost one football club to liquidation, it is absolutely vital that we don't lose another one.
"We will just have to wait and see how long it is before we are given the green light to play again and then go from there."