Scarborough Athletic boss Darren Kelly ready to put his faith in youngsters
Scarborough Athletic manager Darren Kelly is ready to put his faith in the town's up and coming talent heading into the 2020/21 campaign.
Wednesday, 6th May 2020, 12:04 pm
Updated
Wednesday, 6th May 2020, 12:06 pm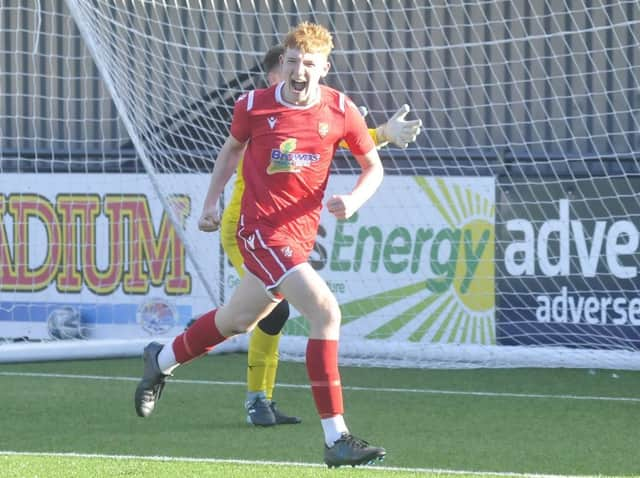 Scarborough Athletic youngster Connor Avison scooped the clubs Young Player of the Year award PICTURE: SCARBOROUGH SPORT SCHOLARSHIP
Edgehill youngster Max Wright was included in Kelly's squads on numerous occasions at the back end of the 2019/20 campaign and his teammate Connor Avison scooped the club's Young Player of the Year award at Saturday night's virtual awards presentation.
Kelly is keen to see Scarborough's young talent nurtured and given the right opportunities to impress.
"I've always been a big advocate of promoting young players through a club," said Kelly.
"I'm a big believer that if you are good enough it doesn't matter how old you are - young players need to be given the opportunity and them time to improve as they are bound to make mistakes.
"I've always been big into the academy side of things and I hope it will be no different at Scarborough Athletic."
Kelly will be speaking to Boro's junior coaches to sound them out over potential talents, including Edgehill duo Wright and Avison - but Kelly is quick to insist he doesn't want any youngsters in the squad to make up the numbers.
He added: "I have heard a lot about young Connor and will be talking to the junior coaches about him again, as well as discussing others.
"I am very keen to get the younger players involved but at the same time we can't stifle their progress and have them with us for the sake of it as I want to challenge at the top end of the table next season and we need to be mindful of squad numbers.
"It's hugely important to me that we have some Scarborough lads in the squad, and having the likes of Jimmy Beadle, Ryan Blott, Michael Coulson and Max Wright helps give the changing room a buzz and a bit of a heartbeat."