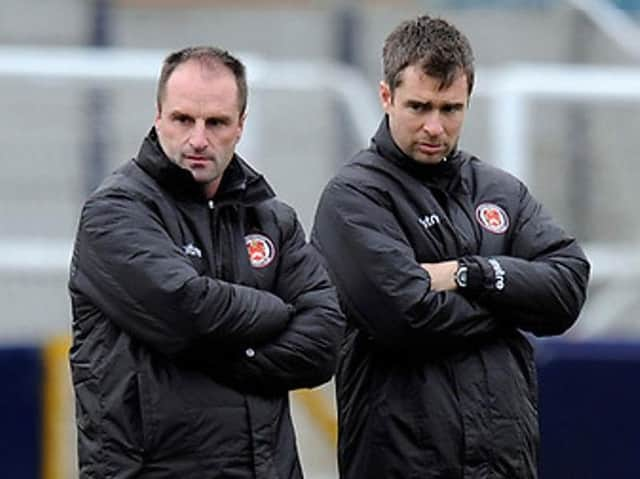 Darren Kelly and Dave McGurk during their time in charge at Hyde United
Boro go in search of a rare away win at Hyde this weekend on the back of a 3-1 win over Ashton United on Saturday.
Kelly admits it'll be strange going up against The Tigers and his former assistant Dave McGurk, who took charge after the Boro boss stepped into a sporting director role.
"It will be a bit strange but I haven't given it too much thought to be honest," said Kelly ahead of Saturday's clash.
"I had a fantastic three-and-a-half years at Hyde and made some great friendships there, and it'll be nice to catch up with everyone on Saturday.
"But my responsibility and sole focus is on going there and getting three points for Scarborough Athletic and we'll be preparing this week to try and do just that."
Kelly is keen that the focus isn't on him on Saturday afternoon and is instead on matters on the pitch.
Kelly added: "It's not about me.
"It's all about what goes on on the pitch on the day and hopefully we can come away with the win and then have a good catch up with everyone."
The Boro boss goes up against his former assistant Dave McGurk for the first time on Saturday and he admits it'll be strange.
"I love Dave McGurk and it'll be strange going up against him," said Kelly.
"We had a great time working together at Hyde and this will be the first time I have gone up against him and that will be a challenge.
"Hyde have some really good players there, a lot of them I brought to the club, so it will be a tough test for us."
Kelly hopes he'll receive a good reception from the Hyde fans, while also hoping Boro fans travel in their numbers and get behind their side as they look to put an end to their poor run of form on the road.
"I certainly hope I get a good reception, I had a good time there and we did well," said Boro boss Kelly.
"Our away form hasn't been great of late and we need to address that, hopefully starting Saturday.
"We've had great support from the fans since I came to Scarborough Athletic and hopefully we'll have good numbers there again this weekend to get behind the players."
DON'T MISS: Darren Kelly's weekly column in this Thursday's Scarborough News.