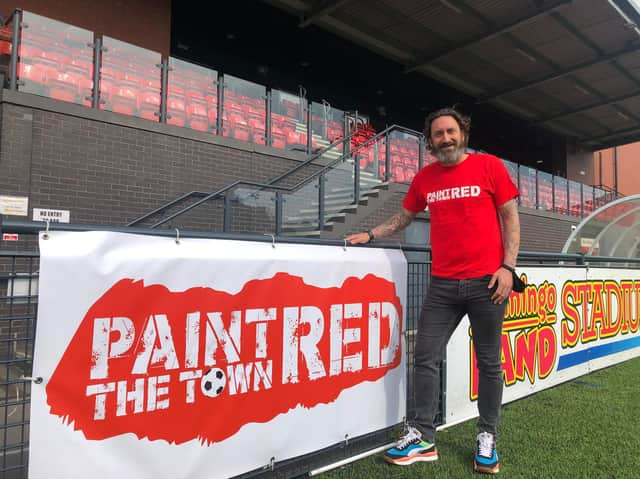 New Boro boss Jono Greening
Greening was in a positive mood after the players returned to training last week.
He said: "Me and Michael (Ingham) were very impressed by the lads at the first training session last Thursday, they gave it 100%.
"The lads who were here last season did well as did a couple of younger lads who we are having a look at in pre-season.
"We are obviously looking to add a few players this summer, but the core of the squad will be based upon players who were here at the club last season.
"It is a funny time of year though as a lot of the players out there, understandably, want to take their time to make decisions about where they will play next season."
The former Manchester United midfielder's first match in charge will see Boro hit the road to Garforth Town on Tuesday July 6, 7.30pm kick-off.
He added: "As good as it is to be back training it is games like Garforth where we will see how the players are doing.
"It will be interesting to take on a team managed by my old Tadcaster boss Paul Marshall he always has his teams fired up for a game so it will be a tough test for us.
"I cannot wait for that first game now.
"It has been a difficult 15 months for everyone, and, as long as things are okay regarding the June 21 easing of Covid-19 restrictions, it will be great to be able to welcome the fans back.
"I had been in touch with some bigger clubs, my old clubs Middlesbrough and York City, as well as Leeds United and Sheffield Wednesday to try to sort out some friendlies against them, but the bigger clubs had already set up their pre-season games back in January.
"We have arranged a nice mix of friendlies, the opponents will give us different kinds of problems to solve.
"One of the main reasons I came here was the support from the Boro fans and it will be great to see them at these games."
The club has also pencilled in home games against Pontefract on Tuesday July 20, Tadcaster Albion on July 27, 8pm kick-off, and Cleethorpes Town on Saturday July 31, 3pm kick-off.
As well as the pre-season schedule taking shape Greening's plans are also taking shape on the squad front with players such as skipper Michael Coulson, striker Nathan Cartman, Kieran Glynn, Will Thornton, Ryan Watson and Josh Barrett all signing on for the 2021-22 campaign.