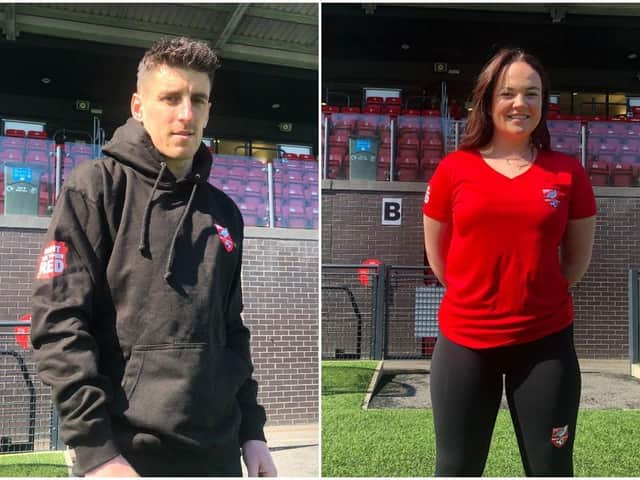 LOOKING THE PART: Michael Coulson and Leah Ager in the new merchandise
The club have teamed up with local firm Focus to offer supporters new clothing, kicking off with T-shirts, hoodies and leggings, which will all be in Boro colours.
The full range will be available online, with the most popular also being sold at the OneStop Boro superstore, which is on Huntriss Row in Scarborough.
Not only will the leisurewear feature the Boro badge, but it will also boast the first outing of the Paint the Town Red logo, to promote the club's new progressive strategy.
Commercial director Sarah Dowey said: "Listening to fans, we felt there was a real enthusiasm for an affordable range of leisurewear, alongside our replica kit.
"Earlier in the year we surveyed supporters to find out which items they would like to see on sale.
"Using this information we created an initial range, taking their feedback into account, including having the badge sewn on rather than printed.
"Once we are back at the Flamingo Land Stadium we will be extending the range and making it all available at our club shop.
"We are excited to be able to work in partnership with a local firm in Focus, who we have a great relationship with and are keen to help us progress.
"It would be great to see our fans take up the baton by wearing both our replica kits and our leisurewear, this would really help us to 'Paint the Town Red'.
The range goes on sale on the Scarborough Athletic website this Friday and can also be purchased in store at OneStop on Huntriss Row on the same day.