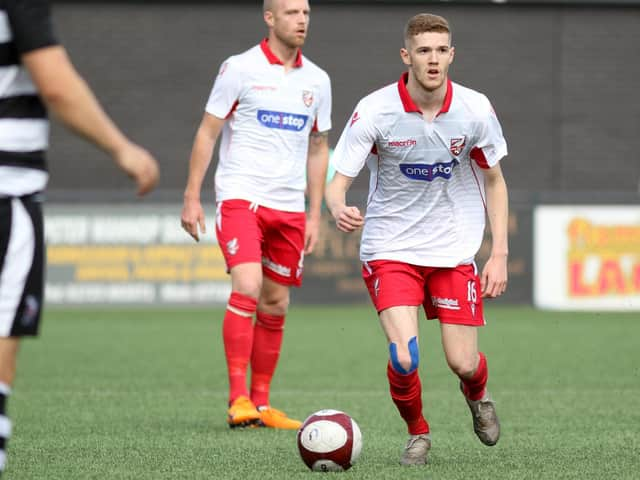 Boro's Kieran Glynn gets on the ball
Glynn admits he's had some dark times in his fledgling career to date that has seen him turn out for FC United of Manchester, Salford City, Chorley, Woking, Southport and now Athletic.
However, such was his enjoyment during his initial loan spell from Salford, Glynn turned down approaches from Bradford City, Chorley, Farsley, South Shields and Grantham, among other sides, to sign for Darren Kelly's side on a two-year deal.
"I've absolutely loved every minute of my time with Scarborough," said Glynn.
"When I initially came in on loan I had gone through a tough time and wasn't enjoying my football, but I've loved my time here and knew I wanted to sign permanently when my contract with Salford expired.
"There were offers from clubs like Bradford, Farsley and a few others, but I knew that in the past I had put money or playing as high as possible over enjoyment and game time and I wanted to come back to Scarborough again.
"I've had a few hard moments in my career where I really haven't enjoyed my football and I had fallen out of love with the game on a few occasions.
"Signing for Scarborough has helped me fall back in love with football and enjoy playing again.
"The fans have been fantastic - they're very similar to the FC United fans in that they're a fan-owned club and are really passionate about the team and club.
"The players and manager here have also been so great with me too.
"Darren is the best manager I have played for yet. Everyone knows he's a great man manager but he's also very good tactically as well.
"He's really shown faith in me that some of my previous managers haven't and it definitely helps."
These are testing times for everyone - with no sign of an imminent return to football and Glynn admits he's struggling too.
"Football is my release," insisted the Boro midfielder.
And it looks inevitable that Glynn will have to wait a while yet to get back out on the pitch with the 2020/21 NPL season likely to follow the last campaign in being declared null and void with Boro having only played eight league games to date.
"It's really frustrating as you just forget about everything else when you're at football," added Glynn.
"We've not heard a thing from the league too, even when we ask the manager, he doesn't know anything, which makes it all the more harder.
"Null and void seems to be the best way forward, there's no other option really.
"We have only played eight games so there's no way we can finish the season, we just need to focus on next season now and move on."
Glynn insisted the squad have a superb togetherness - adding they're all looking out for each other in these tough times.
"We've got a great group of lads at the club," added Glynn.
"We all chat every day on WhatsApp and have our arms round each other if we need to.
"It's hard without training, games or anything like that, but hopefully we'll be back at it sooner rather than later."
Glynn, 23, played against Boro during his loan spell at Southport when his side thrashed John Deacey's men 5-2 in the FA Cup back in September 2019.
During another loan spell the creative midfielder played for former Scarborough FC player Jamie Vermiglio at Chorley, and he admits he was tempted to move back to the National League North side after leaving Salford.
"Yeah I suppose I was tempted to go back there as Jamie (Vermiglio) is a fantastic manager, I can't speak highly enough of him really," added Glynn.
"But I knew I wanted to come back to Scarborough really.
"The whole club have welcomed me here, the fans are always supportive and I have a manager in Darren who I know rates me and values me too."
It could all have panned out so differently for Glynn too.
Having impressed in FC United's league matches against Salford City in 2017/18, Glynn was snapped up for an initial £15,000 fee by then joint bosses Bernard Morley and Anthony Johnson.
However, things started to unravel for Glynn when just days later, Gary Neville and the Salford board parted company with the long-standing duo - with Graham Alexander coming in to replace them.
"I signed for Jonno and Bernard and had a good feeling about things, they wanted me there, but it started to go wrong when Graham Alexander came in," added Glynn.
"He stuck me out wide first game of pre-season and I think I got 30 minutes - he just wasn't having me as a player as perhaps I can come across as bit lazy if somebody doesn't know me and things went downhill form there."