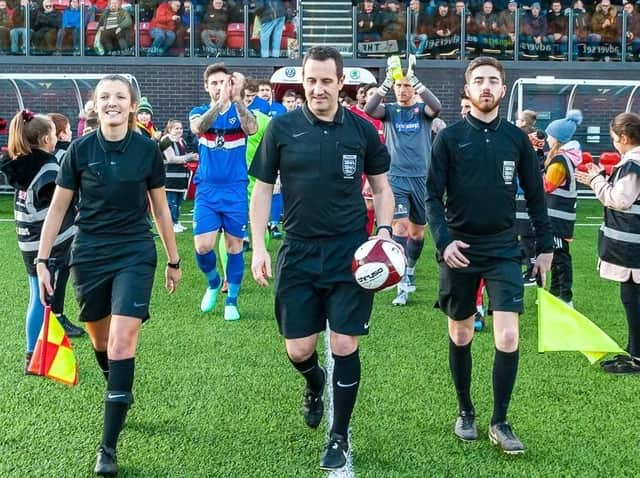 Boro and Whitby Town's players emerge for Saturday's derby clash. Picture by Brian Murfield.
Boro's T'Nique Fishley received verbal abuse from a supporter in the away section during the first half of the home side's 2-1 win in the BetVictor Northern Premier League.
The fan was immediately ejected from the Flamingo Land Stadium
The club statement read: "Sadly, during Saturday's home match against Whitby Town, a Boro player was subjected to racial abuse by an individual situated in the segregated Whitby section of the Flamingo Land Stadium.
"This occurred during the first half of the game and in the 24th minute the referee was made aware of it, he acted immediately to suspend play.
"At this point the assistant referee also confirmed that he had heard the abuse. The referee then consulted with Boro club officials to request action be taken.
"The individual was identified by other supporters in the segregated area of the ground and was ejected from the stadium. We would like to thank the supporters in that section for their assistance with this matter.
"Supporters will remember that the recent England international against Bulgaria was suspended in line with the new FIFA protocol dealing with racism and discrimination, and that international game would have been abandoned had this behaviour continued.
"We must point out that the same protocol applies at our games and we will not tolerate any behaviour of this kind.
"This incident not only upset our own players, but also the Whitby Town players as well. We will be ensuring that anyone affected will get the support they require."
Whitby Town released a statement on Sunday that read: "The board are aware of an alleged incident during the game with Scarborough Athletic at the Flamingo Land Stadium on Saturday 30th November which involved racist language being used.
"We are investigating the full details of this incident and we will take any action accordingly.
"Racism and other discriminative behaviour has no place at Whitby Town Football Club and will not be tolerated under any circumstances."