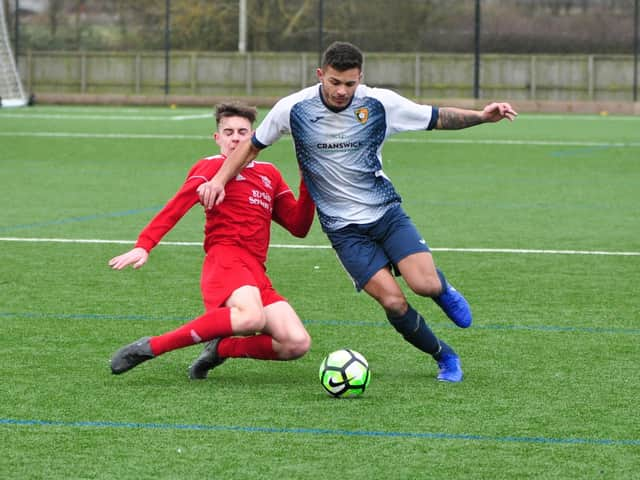 Edgehill and Newlands battle for the ball. Picture by Andy Standing.
Steve Clegg's men took their place in the final against either Seamer or Hunmanby courtesy of Joe Gallagher's goal on 32 minutes.
Newlands' chances of getting back into the contest took a huge hit when they were reduced to 10 men just a few minutes after Edgehill's opener, Ben David sent off after kicking out at Ricky Nock.
Edgehill hung on to take the win and seal their spot in the final.
Clegg said: "It was a very scrappy game.
"We weren't at our best but it was a solid team performance and we got the result."
Newlands boss Paddy Mancrief singled out Kile Fields and Liam Salt as his side's stand-out performers.
Seamer progressed in the Scarborough & District FA District Cup courtesy of a 2-1 win over Scalby.
Prolific striker Danny Glendinning put Seamer into a 1-0 half-time lead.
Sam Medd's side got back on level terms through Kyle O'Toole's strike, but Jamie Hartley won a scrappy challenge at the back post and prodded in to seal the win for Joe Tiffany's men.
Luke Purvis was Seamer's man of the match, while Medd praised his entire side for their battling performance.
Cayton Athletic moved into the next round of the Scarborough & District FA Junior Cup after beating Filey Town Reserves 5-1.
Luke Priestley was the star man for Athletic, smashing in four of their five goals, with Ryan Somers also scoring from the penalty spot.
Priestley and Somers were the stand-out performers for the victors.
FC Rosette lost 5-1 to Beckett League side Kirkdale United.
United went ahead but it was 1-1 heading in at half-time when Al Wray fired in from the edge of the box.
United took control after the break and hit four unanswered goals to seal the win.
Ryan Jones shone in defence and then in midfield for Rosette.