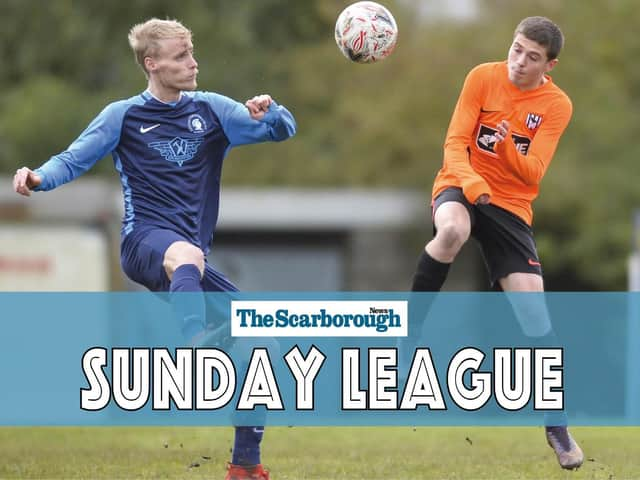 Scarborough Sunday League round-up
Niall Gibb's Trafalgar side led 2-0 at the interval courtesy of goals from Jack Ramos and Danny Glendinning.
Angel halved their deficit in the second half, Martin Cooper capitalising on a goalkeeping error as his long-range strike found the back of the net, but Traf held on to take the three points.
Trafalgar's player-boss Gibb said: "I thought we definitely deserved the win, it's hard to pick a man of the match as every player was outstanding."
Angel's Dan Jones singled out Lloyd Henderson and Neil Thomas as his side's star men.
Newlands stayed in the title race after beating Cayton Corinthians 5-1.
Jack Hakings was in fine form for Newlands as he smashed in a superb hat-trick for Dan Sheader's side, his third a cheeky Panenka penalty.
Prolific striker Zac Hansen maintained his fine season to date with another goal and the scoring was wrapped up by Liam Mintoft.
Sheader singled out hat-trick hero Hakings, Mintoft and left-back James Young as his side's star men.
Cayton's solitary goal came from Luke Chambers after good work from Callum O'Keefe in the build up, while Shaun Dolan and Dan Bywater stood out for Corinthians.
West Pier battled back from 3-1 down to beat Valley 4-3.
Paddy Parke's men claimed the points thanks to goals from Ste Paxton, Chris Mattinson, Taylor Jordan and Mikey Anderson, while Harrie Leighton was their man of the match.
Valley's goals came from a Sam Westmoreland double and a strike from his brother Josh, while their man of the match was new signing Rafal Jackow, with Dempsey Stubbings also impressing.
Eastfield Athletic bagged a 7-4 win against Saints in Division Two as Chris Milburn and Tommy Day hit a hat-trick apiece.
Andy Thorpe's men led 3-0 before Saints battled their way back into it.
The hosts had too much for their opponents however, and Adam Martin added a further goal to wrap up their win.
Tom Swayne was Athletic's man of the match.
Fylingdales fought back from a 4-1 deficit to beat Castle Tavern 4-3.
Tavern led 4-1 thanks to Dan Blanchard's treble and a Chris Millson strike in the first half, but a Dave Welham hat-trick and two from Tom Shrimpton sealed the win for Si Forde's side.
Fylingdales boss Forde was delighted with his entire side's performance as they battled back to take the points.
Tavern chief Dan Thomas handed the man of the match honours to goalscorers Blanchard and Millson.
The top-of-the-table clash between Roscoes Bar and Angel Athletic Reserves was postponed due to a frozen pitch.