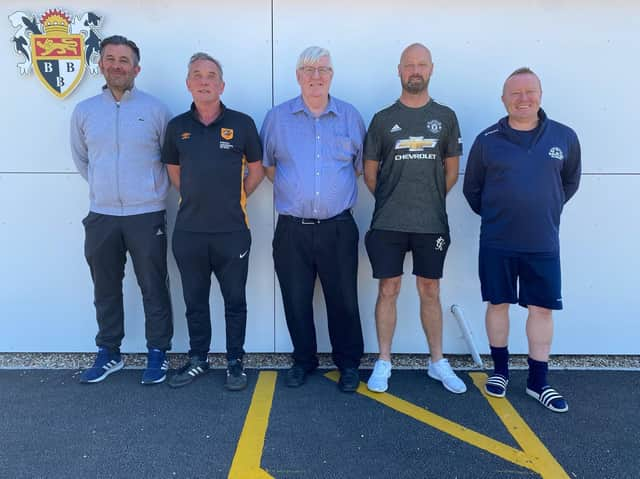 NEW PARTNERSHIP: Joining forces, are, from left, Andy Potts (Brid Rovers), club liasion officer John Kenney, Brid Town chairman Peter Smurthwaite, Brid Town Rovers boss Steve Lister and Jackdaws chairman Chris Kirkham
Town chairman Pete Smurthwaite said: "We are pleased to announce we've made an agreement with Burlington Jackdaws and Bridlington Rovers to be part of a pathway to Bridlington Town.
"Bridlington Rovers Lions will be becoming the Brid Town reserve team and play in the Humber Premier League Division 1 and will play under the name of Bridlington Town Rovers, they will be coached by Steve Lister who will be assisted by Mark Pratley and Paul Webb. Home games will be played at Queensgate.
"I am pleased we are able to link up with these two well respected community clubs, our investment in the new clubhouse was to help us invest more in the local community, this fits in well with the other initiatives involving the community with the "Run with it" schools programme and "Andy's Man Club" and the hiring of rooms for teaching purposes.
"We will be looking to encourage young players in the town to be able to aspire to want to play for the first team.
"Brett Agnew and his assistants will also be holding occasional coaching sessions at the Bridlington CYP. We are now able to share facilities which will benefit all three clubs.
"We would like to thank Terry Finney, John Kenney, Kevin Grantham and Nick Tudor for their time involved with the reserves and county teams. Kenney will continue as a link between the clubs.
"We will be looking to organise some pre-season friendlies to be played at Queensgate."
Rovers have worked hard over the last five years to make the step from junior to senior football as simple as possible.
This was further evident in the recent partnership with Jackdaws, which has seen Rovers move into youth football.
Rovers see working with Town as the obvious next step in the football pathway and puts the final link in place that should benefit all three clubs .
Nick Sunley, Rovers Club Development Officer said "Rovers are pleased to be working together with Burlington Jackdaws and Brid Town, the club's growth within the area is evident to see and it's a natural for these clubs to come together to hopefully produce players from this area to play at the best possible level."
Jackdaws chairman Chris Kirkham said:"Things won't happen overnight and the process will take time, with a clear strategy for each player with a local ambition including retaining players at adult level whilst hoping to provide the club with more Brid-based players for the spectators to find an affinity to and support.
"As a club we will turn our full attention to the primary school ages, working with schools on recruitment at U7/8, and work with Bridlington sports partnership on 'an inter-schools football league', with the Under-9/10/11 before a transition into Brid Rovers once in secondary school.
"To be able to work with these two clubs ensuring we have a clear vision for footballers in the town had always been the aim for Jackdaws, in which we can help build deliver and present to our young players and coaches."