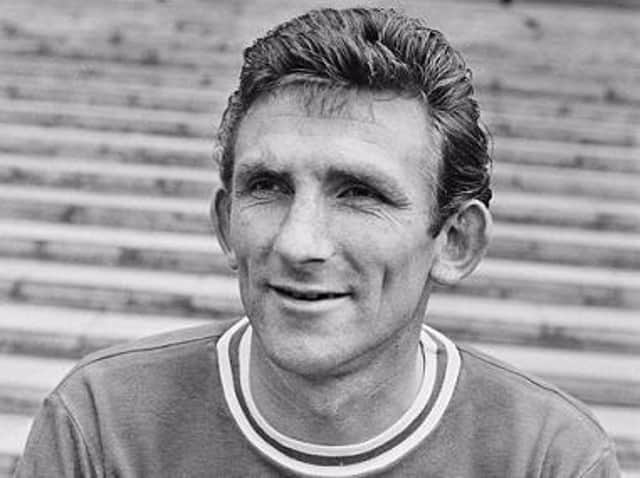 Colin Appleton, during his time as a Leicester City player, in 1962
Colin was born on March 7 1936, the second of three children to Harry and Edith Appleton, who lived in Newlands Park Crescent.
He attended Gladstone Road and Scalby Secondary Modern Schools, where his skill as a footballer saw him selected for Scarborough Schools and North Riding County Boys teams. He played in several positions, including as a forward, but always preferred the left-half role, and his 'football brain', quick-thinking and calm attitude quickly brought him to the attention of local teams.
Aged just 14 he played in the Scarborough & District League for both Old Scarborians and St James, and was then invited to training sessions at Scarborough FC by coach Les Heelbeck.
Colin Appleton signs as Boro player-coach in 1969
Colin turned out for the 'A' team in the District League, then quickly progressed to the reserve team in the Yorkshire League and made his first team debut for Boro as a 15-year-old.
He was also a talented cricketer, and played for the junior team at Scarborough CC, and in later life turned out for local charity team Leggs XI.
After leaving school he began an apprenticeship as a joiner at Plaxtons Builders, while turning out for Boro in the Midland League, but manager Reg Halton recognised that Colin was an outstanding talent and recommended him to his old club Leicester City.
There was also interest from other clubs, but Colin went for trials at Leicester, and eventually signed a professional contract with the Second Division club in March 1954.
He went to play for Leicester City in the First Division for 12 seasons, captaining the team for several years, making a total of 333 senior first team appearances, including two FA Cup Finals and two League Cup Finals.
He was also selected for the Football League XI and FA XI, and was one of the top players in English football in the early 1960s, only the remarkable consistency of Ron Flowers, followed by the emergence of Bobby Moore, who both played in the left-half position, prevented Colin from winning an England cap, but he did represent the British Army during two years National Service with the Royal Leicestershire Regiment.
He later moved to Charlton Athletic, where he was club captain, before starting out in management as player-coach at Third Division Barrow FC.
Then in June 1969 he returned to Scarborough when he was appointed player-coach of his hometown club.
Along with two lifelong friends, Geoff Bowman who was trainer, and Ken Boyes, who Colin brought in as his right-hand man, he transformed Boro into one of the top non-league clubs in the country. Three magnificent FA Trophy wins at Wembley, along with numerous other trophy successes and FA Cup giant killing acts, brought great glory to Boro during Colin's reign as boss, spread over two spells.
He also managed Hull City (winning promotion in his first season), Swansea City, Exeter City and Brid Town, was coach at Grimsby Town, and at the latter end of his career, scouted for various clubs, including Alex Ferguson's Manchester United in a truly glittering footballing career than spanned 40 years.
He also enjoyed coaching local youngsters, and was a skilled joiner and carpenter, and loved to stop and chat to people about football, but despite his great achievements Colin was a private, very humble and modest man.
He married Scarborough girl Sheila Bourne at St Mary's Church on August 26 1957 and they enjoyed a long and very happy marriage. They had two children, daughter Debbie, and son Leigh, and were then blessed with four grandchildren and five great-grandchildren.
Colin and Sheila lived in their bungalow in Seamer for more than 50 years and looking back on their 63 years together Sheila said: "We have had a wonderful life together. It has been a very happy marriage, and I am so grateful that I got to spend my life with such a lovely, caring man.
"I have been overwhelmed by the number of cards and messages of love and affection for Colin that I have received since he passed away, not just from Scarborough, but from all over the country.
"Thank you to everyone for your kind words, it means so much to me and my family."
Boro supporters who would like to pay their last respects to Colin are welcome to assemble on Main Street, Seamer near the Copper Horse at 11am, on Wednesday, June 16, as the cortège passes by en route to the funeral at the East Riding Crematorium, Octon.