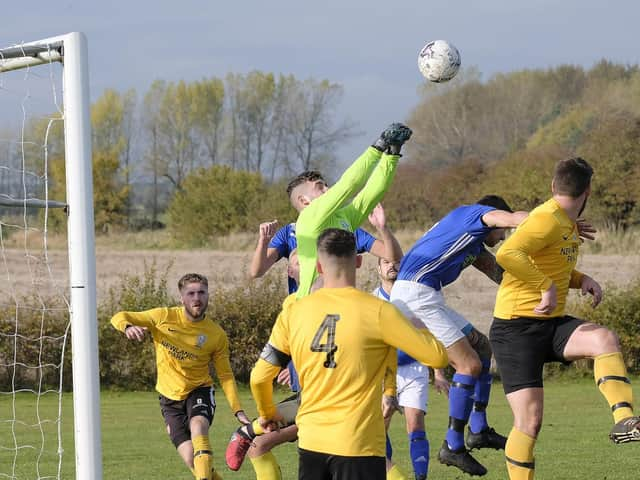 Rivals Newlands (yellow kit) and Trafalgar renew hostilities on Sunday
But new player-boss Mikey Barker remains optimistic of mounting a challenge for the Scarborough Sunday League title.
The Traf boss will be without the injured Josh Fergus and Issy Macauley while Sam Pickard is unavailable due to work.
Traf welcome back Ali Caw while veteran Dean Macauley could feature.
Barker saw his side hammer Castle Tavern in their opening match of the season and was left impressed with his side's efforts.
He said: "The first game was successful, I was impressed going forward we were deadly, when you have Liam Salt, Danny Glendinning, Joel Ramm and myself as your options up top it's always good.
"The young lads we've brought in have been fantastic and it was what Traf have needed.
"We have a fantastic squad and we will be looking to fire on all cylinders this year.
"Next year will be the 50th anniversary for the club, so my vow is to make it special."
Barker was quick to single out the club's young players.
He added: "Josh Fergus has been very good pre season, Issy Macauley has also looked good and Ted Edwards has nailed himself a position at the back at age 17.
"Tom Greenwood and Liam Love have been given a new lease of life.
"I feel like we have got a great balance. My hopes for the season would be to regain the title."
Elsewhere this Sunday, Cayton Corinthians take on Katch in their delayed North Riding FA Sunday Challenge Cup encounter.
Castle Tavern, Trafalgar and Valley all received byes to the second round of the competition.
In Division One Angel Athletic take on Saints, Castle Tavern host Eastfield United, Eastfield Athletic welcome Valley and Roscoes Bar travel to Fylingdales.