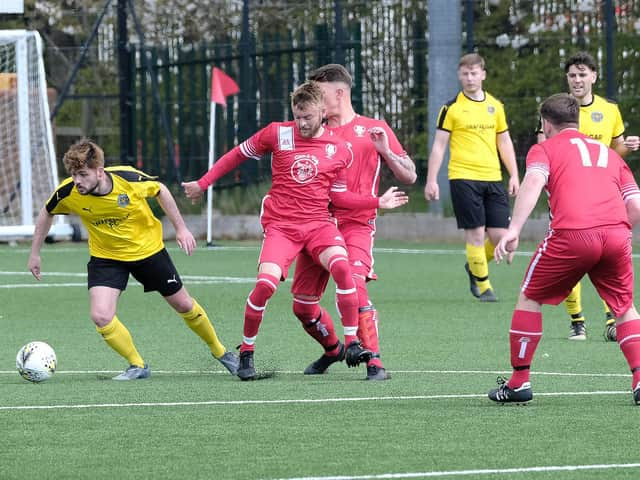 Trafalgar, yellow kit, defeated Newlands 2-0 in the NRCFA Cup semi-final. Photo by Richard Ponter
Trafalgar went ahead in Sunday morning's clash thanks to a great lobbed shot from Lewis Taylor in the first half.
Newlands came back into the game after the interval but fine defending maintained Traf's lead and they sealed their place in the final with a cracking free-kick from Joel Ramm.
Trafalgar boss Mikey Barker said: "We matched them for battle this time. A game against Newlands is always a battle but we all stepped up to see us through to the final against Angel which will be a very good game.
Trafalgar, yellow kit, defeated Newlands 2-0 in the NRCFA Cup semi-final. Photo by Richard Ponter
"The man of the match was shared between Curt Rose, Nathan Vernon and Connor Avison."
Newlands boss Dan Sheader said: "We started very slowly, it was very even in the first half and they then took the lead and we had a good spell at the end of the period and had a great chance to level when Ryan Matson hit the woodwork with a free-kick.
"We had so many chances to score in second half as we had them pegged back but did not take one, then they scored a second with a worldie of a free-kick 15 minutes from the end.
"I am disappointed with the result, but over the moon with how the lads performed today we will look forward to next season now."
Traf's Billy Logan tries to hold off a Newlands challenge Photo by Richard Ponter
Angel's 6-3 win at Coulby Newham & Nunthorpe was a lively encounter, with both sides playing the second half with only 10 men.
Dan Jones' side went ahead with a first-half volley from Martin Cooper but they were then reduced to 10 men when Kurtis Henderson was shown a straight red for an off-the-ball incident on 20 minutes.
Coulby then went in front with two quick goals but Angel refused to submit and equalised through Jackson Jowett and restored their lead just before the interval through a Gary Thomas header.
The hosts then also saw a player sent off just before the half-time break.
The away side doubled their lead in the second half through Neil Thomas and made it 6-2 thanks to Jowett and sub George Walmsley, before Coulby hit a late penalty as a consolation.
Jones said: "All the lads were superb today and their attitude was unreal after being 10 men for 70 minutes of the game. All of them get the man of the match award.
"Hopefully we can have a great cup final day in Scarborough with no restrictions now!"