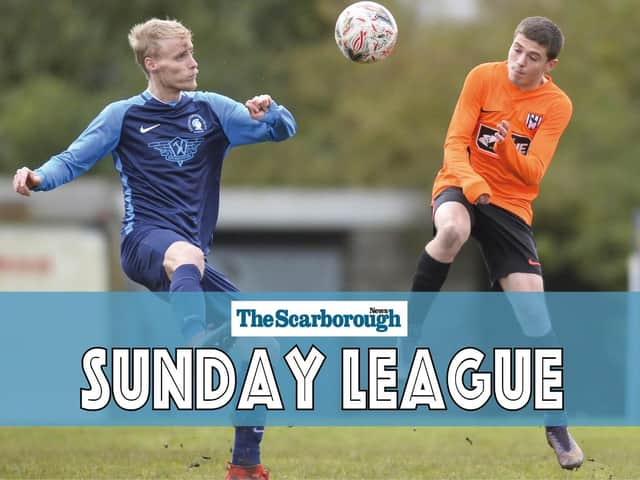 Sunday reports
The home side went ahead through a diving header from player-manager Niall Gibb after a cross from Joel Ramm just before the half-time interval.
The opening 45 minutes were keenly-contested, with Gibb admitting that Traf had the better share of the possession but Angel carving out the clearer chances.
Sixteen-year-old centre-back Connor Avison doubled Trafalgar's lead 10 minutes into the second half with a glancing header, but Angel got back into the game through Danny Anderson's overhead kick.
Eastfield Athletic beat Castle Tavern 5-1
Traf then went up the other end and were awarded a penalty when Angel keeper Scott Wardman brought down Sam Pickard, Ramm slotting home the spot-kick.
Sub Sean Exley than put Traf 4-1 ahead, slotting his shot into the corner of the net after a superb team move by the hosts, with play switching flanks in the build-up.
Angel then pushed on looking to get back into the game and sub Ben Mason reduced the arrears.
A counter-attack from Traf, led by Tyler Richardson, saw him find Ramm, who finished superbly after running across goal past Wardman to complete the win for Traf.
A delighted Gibb said: "Connor Avison was the man of the match, but Sam Pickard also did very well playing up top. Overall the lads all played well in a great win for us.
"We knew that if we won this game then we were back in with a chance in the title race, as it is a lot more open this season than in recent years."
Angel joint-boss Dan Jones said: "We have been unbeaten in the league since we formed so all good things must come to an end.
"We can still keep our heads high as it is some achievement but fair play to Traf they were better side today.
"Our man of the match was Danny Anderson."
Eastfield Athletic earned a 5-1 win against Castle Tavern in a lunchtime kick-off Division Two game at Pindar School.
Jamie Jordan put Eastfield in front with a direct free-kick on 31 minutes, and the same player doubled his side's lead 10 minutes into the second half after bursting clear from midfield.
Six minutes later the three-point haul was sealed with a header from Chris Milburn after a superb delivery from Dave Tonks.
Adam Martin and Tommy Day added further goals on 68 and 82 minutes, with Tavern grabbing a consolation through Michael Pugh with a looping shot.
Eastfield boss Andy Thorpe said: "Man of the match was Jonny Hunter at centre back, as he put in a commanding performance.
"But an honourable mention to the whole team, especially the four younger lads Matty Hillman, Kaylum Stingemore, Kieran Lilly and Micheal Putley, that came on in the second half and weren't intimidated."
Tavern manager Dan Thomas added: "Man of match was shared between Nathan Spencer at right-back and Igor Kaluzsny as the central defensive midfielder. Both played really well, put their all in and never gave up."