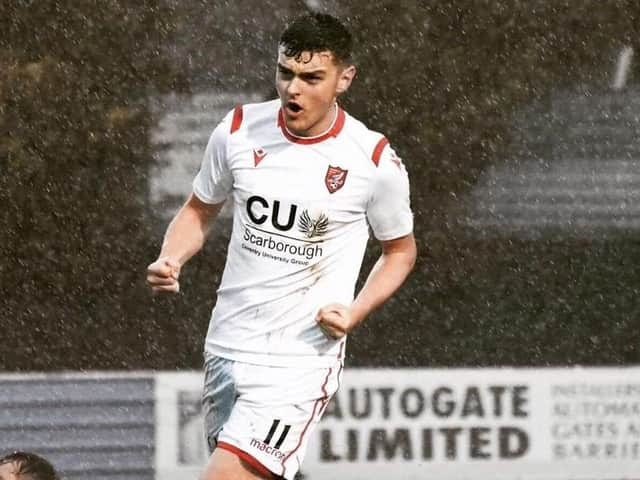 Flynn McNaughton impressed during the 2019/20 pre-season campaign with Boro
McNaughton, who impressed for Pickering Town last season after being deemed surplus to requirements at the Flamingo Land Stadium by previous boss John Deacey despite being the club's top-scorer in their pre-season campaign, is set to join up with Kelly's men for training sessions.
"I definitely feel like I have unfinished business at Scarborough," said McNaughton.
"I was playing well and scoring goals in pre-season and really felt I was going to kick on, but John (Deacey) left me out after saying he was going to play me and I ended up at Pickering Town.
"I know Darren (Kelly) from being at York City together and he's told me to come to pre-season training and just do all I can to catch the eye and impress.
"If I can replicate my form from last pre-season I'm confident I can do well.
"I'd love to be back at Boro. I haven't had any contact with other clubs, but I doubt I'd want to go anywhere else anyway to be honest.
"The club has a good feel about it, even better than this time last year.
"Darren coming in and doing well and the new stand have made a big difference."
McNaughton joined up with the Pikes, then under the stewardship of Denny Ingram and Ryan Blott, before finishing the season under former Scarborough Athletic coach Steve Roberts.
"I feel having that year at Pickering Town has really helped me improve as a player," added McNaughton.
"I needed that year in senior football to adjust to the physicality and think it's helped me.
"I enjoyed it at Pickering Town and I have spoken to Steve Roberts about going back there if things don't work out at Scarborough.
"He did a great job in difficult circumstances last season and although the results weren't always what we wanted, Steve deserves the chance to continue in that role and prove himself as a coach."
McNaughton is using the current restrictions in place due to the coronavirus pandemic to get as fit as possible in a bid to hit the ground running when clubs are given the green light to get back under way.
"I am getting out as much as possible to try and get myself as fit as possible for when we can get back into training," added McNaughton.
"It's strange not knowing when that will be, but all we can do is prepare for now."