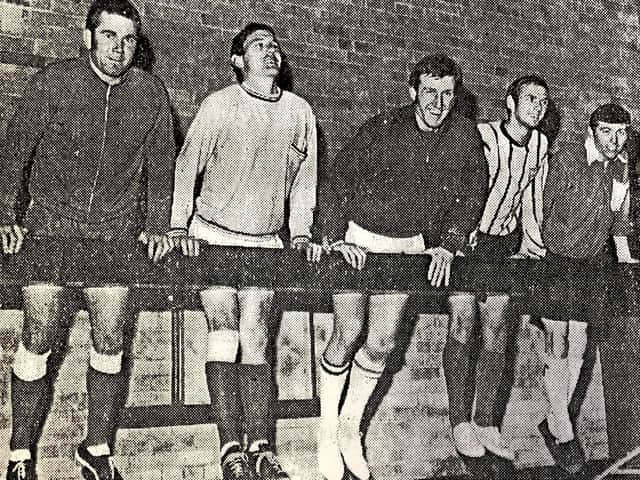 Indoor training ahead of the York City game, from left, Alan McCloy, Bobby Veart, Dave Rutherford, Terry Bartlett and Kevin Mulgrew
To that point, and very rarely afterwards, had Whitby Town seen a player who had pulled their shirt on earn an England cap of any form - in fact, there was only one - Bobby Veart.
A claim to the cause indirectly would be Bert Johnson - a Whitby player in the late 1930s who would go on to feature for Charlton Athletic and represent England as a full international twice in 1946.
However, Veart is the only Whitby Town man to represent his country while at the club.
His call up came in 1970, when the amateur side headed to Helsinki for a friendly with Iceland, while also playing France.
Veart, who had never been on a flight in his life, soon found himself on no less than ten in the space of just a few days - though, it was an experience he described to 'Wanderer' in the Whitby Gazette as "unforgettable".
Such is Whitby, though, the rumours circling were that Veart played in both the Iceland and France matches for the national team, where-as he only featured the once, in Helsinki.
He travelled with the side for the France match, noting how impressed he was with the quality of the French side.
His call up came mainly courtesy of Wilf Dodds, the Northern League president of the time, who also featured on the FA's Amateur selection committee.
He argued that quality players from the Northern League had been ignored for too long in favour of Southern-based players.
On this occasion, the only other Northern League player capped was Tony Rosethorn of Tow Law.
On his arrival home for Neville Pybus' benefit match, Veart was greeted with hearty congratulations from the Whitby Town faithful, and had even turned up at the ground wearing his FA tie, while he waited on his cap arriving.
Bobby Veart, who played alongside his brother Billy, was signed for Whitby Town in 1966 from Hartlepool by Bill Jeffs, staying for five years before returning north to Victoria Park, impressing with the Seasiders over his spell.
A prolific goalscorer, he would go on to net 137 goals in 188 appearances at the Turnbull Ground, playing a pivotal role in Whitby reaching the FA Cup first round proper, scoring twice against Scarborough to set up a first round clash with York City at Bootham Crescent.