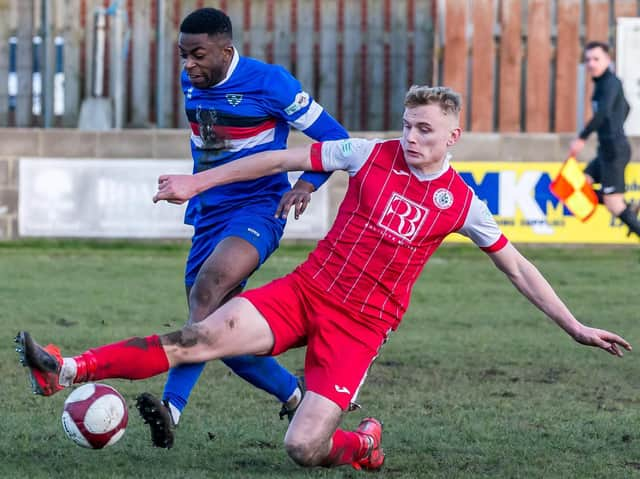 Kieran Weledji in action for Whitby Town. Picture by Brian Murfield.
Weledji had been with Whitby Town since July 2015 after leaving Middlesbrough, but the versatile defender decided now was the right time to move on to pastures new after an enticing approach from boss Darren Kelly.
"It felt like the right time to make the move," said the 24-year-old defender.
"I had a few conversations with Darren (Kelly) and he gave me the confidence that I can come to the club and push on.
"He was very complimentary about me and that was nice, but it seemed the right decision to make as Scarborough are a big club, have a big fan base and are very ambitious - and I am too. I want to win leagues and I will be doing all I can to make that happen at Scarborough."
Weledji had offers from other clubs, including a deal to stay at Whitby Town, but the lure of playing in front of bumper crowds at the Flamingo Land Stadium was a big factor in his decision.
"There was interest from other clubs and Whitby wanted me to stay there, but this just seemed the right time to make the move and Scarborough was the perfect fit," added Weledji.
"I have a lot of respect for the fans and everyone at Whitby Town, and although Scarborough are their rivals it wasn't really a difficult decision to make as I am joining a big club at this level and the extra pressure of playing in front of big crowds is what I need to push me on now."
Weledji has played in almost every position in his time at Town, but is keen to nail down one position in a bid to really improve and take his game to a new level, and Kelly has briefed him on the very specific role he'll play in his system and plans.
"You can be good in a lot of different positions, but I'd like to now go on and be much better in one position and nail it down," added Weledji.
"Darren was very specific with where and how he wants me to play next season and what strengths he believes I bring to the side, which was nice."
In addition to playing in front of bigger crowds and looking to kick on, Weledji also lives in York and works between York and Scarborough, adding another reason to join Boro.
"It wasn't a huge factor in the decision, but it's nice not to have to travel so much as I work in York and Scarborough so it will come in handy," added Weledji, who is ticking over and keeping fit while the coronavirus pandemic has put a halt to sporting action.
"I am keeping fit as much as possible but nothing is better than getting out there and playing football.
"Who knows when that will be possible again, it could be months yet, but I am trying to make sure I am as fit as possible for when I join up with the lads.
"I don't know many of them other than Jimmy Beadle personally, he's sent me a message which was nice."